Click here to return to our full list of musicals and operettas.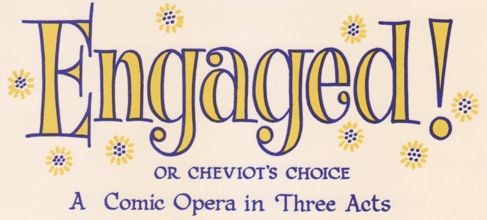 ENGAGED!
Written by W.S. Gilbert; Composed by Arthur Sullivan
Adapted by George Rowell & Kenneth Mobbs

Administered for rental and amateur stage rights by Boosey & Hawkes in the UK.

This high spirited and fast moving romp, with its many unexpected twists and turns, is enhanced by the music and lyrics of Gilbert and Sullivan.
Please follow this link to listen to extracts from a selection of songs from the musical.
Licensing performances
If you wish to apply to perform the work, then please send an email to musicals@boosey.com stating the following information only:
1) Name of school/society
2) Where you are (city/town)
3) What you want to perform (Engaged!)
4) When you want to perform (if exact dates are not yet known, then please provide the month)
We will then send you an application form by email to complete, along with details of costs involved. Once the form is completed and returned by email, a licence will be emailed to you for signature. Once signed we will be able to send you the music at the date requested on your application form.

Your hire requirements should be submitted on the application form, and details of materials available to hire can be found below.
Information
HIRE MATERIALS AVAILABE & INSTRUMENTATION

We can provide orchestral parts (details below), vocal scores and libretti. Please note that you must use live musicians and the use of a backing track is strictly forbidden.

1 Conductors Score – annotated vocal score
1 Flutes 1/11 (Flute 11 doubling Picc)
1 Oboe
1 Clarinets 1/11
1 Bassoon
1 Horns 1/11
1 Percussion
2 Violins 1
1 Violin 11
1 Viola
1 Cello
1 Double Bass


THE STORY
Edwardian England, 1877
Belinda, travelling to Scotland to escape marrying Major Muggeridge, is accompanied by Belvawney. On the same train travel Cheviot Hill and his uncle Symperson. Unfortunately for them the train is wrecked by Angus MacAlister, who makes a habit of this, in order that Mrs MacFarlane and her beautiful daughter, Maggie, may cash extra money by putting the passengers up in their cottage. Because of the delay caused by the crash, Major Muggeridge catches up with Belinda, and in order to save her, Cheviot announces he is her husband, and she says she is his wife. Neither realise, that in Scottish law, just the statement of this constitutes a true marriage. Months later Belinda, still looking for the man she 'married' in Scotland, arrives at the house of Symperson's daughter, Minnie on the day of the wedding to Cheviot. Matters are further complicated by the arrival of Maggie to whom, the incorrigible Cheviot has also proposed. The problems appear insurmountable, and yet all ends happily with Angus MacAlister marrying Maggie, and a double wedding for Cheviot and Belinda, and Minnie and Belvawney.


PRINCIPAL MUSICAL NUMBERS
Some Look For Love (Cheviot)
If Maggie Were Married To Me (Cheviot, Angus, Maggie, Mrs MacFarlane)
It's My Opinion (Minnie, Belinda)
As O'er Our Penny-Roll We Sing (Minnie, Cheviot)
Little Maid Of Arcadee (Belvawney, Chorus)
Our Life On Earth Is Full Of Care (Symperson, Cheviot)


PRINCIPAL CHARACTERS AND VOCAL RANGE
Minnie Symperson (Soprano)
Maggie MacFarlane (Soprano)
Belinda Treherne (Mezzo Soprano)
Mrs MacFarlane (Contralto)
Cora - Chief Bridesmaid (Soprano)
Dora – Bridesmaid (Soprano)
Flora – Bridesmaid (Contralto or Mezzo Soprano)
Nora – Bridesmaid (Contralto or Mezzo Soprano)
Angus MacAlister (Tenor)
Cheviot Hill (Baritone)
Belvawney (Bass Baritone)
Symperson (Bass or Baritone)
Major Muggeridge (Bass)
Chorus of Lowland Lassies, Train Travellers, Officers of the Peterborough Sokes and Wedding Guests


HISTORY
W.S. Gilbert's play, Engaged (for which the theme seems to have been suggested by his Bab Ballad, "Ellen MacJones Aberdeen"), was first performed at the Haymarket on 3rd October, 1877, some six weeks before the production of The Sorcerer, and some six months before H.M.S.Pinafore. The play had only a modest run, for this first fully-developed essay in what we now know as "Gilbertian" humour was found to be heartless. Once Sir Arthur Sullivan's music had supplied the necessary "heart", this same brand of humour was found to be irresistible.
Engaged has been called "a Savoy Opera without music", and the expiration of the Gilbert copyright in December, 1961, provided the chance to turn it into a Savoy Opera with music. There are two songs in the original play: an unspecified spinning song at the opening, and in Act III the music-hall favourite, "Old Obadiah", introduced as a drawing-room ballad. This adaptation uses lyrics and music from the four little-known Gilbert and Sullivan operas: Thespis, The Sorcerer, Utopia Limited and The Grand Duke. It also draws on Gilbert's libretti for other composers (such as The Mountebanks, Haste to the Wedding and His Excellency) and Sullivan's scores for other librettists, including Haddon Hall, The Chieftain and The Rose of Persia, as well as the unfinished Sapphire Necklace and his contribution to The Emerald Isle, completed by Edward German after Sullivan's death. Another important source of the music is Di Ballo, used both as overture and, thematically, in the opera itself.
The intention in making this version of Engaged has been to assemble a characteristic Gilbert and Sullivan opera from existing but unfamiliar Gilbert and Sullivan material. No lyric or music from the ten well-known Savoy Operas has been used, nor has any Gilbert lyric been fitted to Sullivan music not written for it. Since an alternative title is the privilege of every good Savoy Opera, it has here been extended to Engaged! or Cheviot's Choice. Wherever possible, Sir Arthur Sullivan's orchestrations have been used.
"Engaged!" was first performed by the Bristol Opera School on 27th March, 1962, produced by Kathleen Beer and George Rowell and conducted by Kenneth Mobbs. Its first professional performance was given at the Theatre Royal, Windsor, on 6th November, 1962, produced by Colin Graham and conducted by Anthony Bowles.


Click here to return to our full list of musicals and operettas.
Warner/Chappell
For further information visit the Warner/Chappell website