Click here to return to our full list of musicals and operettas.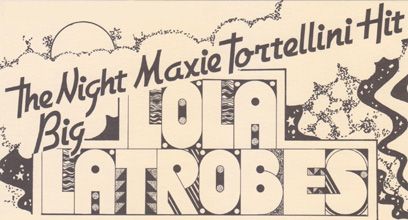 NIGHT MAXIE TORTELLINI HIT BIG LOLA LATROBE'S
Music by Peter Brittian
Book and Lyrics by Colin Swift

Administered for rental and amateur stage rights by Boosey & Hawkes in the UK.

Please follow this link to listen to extracts from a selection of songs from the musical.
Licensing performances
If you wish to apply to perform the musical, then please send an email to musicals@boosey.com stating the following information only:
1) Name of school/society
2) Where you are (city/town)
3) What you want to perform
4) When you want to perform (if exact dates are not yet known, then please provide the month)
We will then send you an application form by email to complete, along with details of costs involved. Once the form is completed and returned by email, a licence will be emailed to you for signature. Once signed we will be able to send you the music at the date requested on your application form.

Your hire requirements should be submitted on the application form, and details of materials available to hire can be found below.
Information
HIRE MATERIALS AVAILABLE & INSTRUMENTATION

We can provide orchestral parts (details below), vocal scores and libretti. Please note that you must use live musicians and the use of a backing track is strictly forbidden.

1 Piano
1 Clarinet
1 Guitar/Banjo
1 Bass
1 Drums


THE STORY (Chicago in the 20s)
"Oh, Chicago, this terrible city we love", sing the whole company as the Prologue to this pastiche about life in the 'windy city'. Set in the seedy night club of the redoubtable Miss Lola Latrobe, we follow the goings-on during one evening there. The Casino Club used to be the hottest night-spot in town, but like its owners and performers, it has seen better days. "The Night Maxie Tortellini Hit Big Lola Latrobe's" is the story of Fingers Rafferty, the piano player who used to be the best, of Lola, whose world is crumbling all around her, who still can't 'find her man', of Maxie Tortellini, the biggest hoodlum in the town who was Lola's lover ten years before, of Tony di Martino, who still claims to be the greatest Vaudeville singer in America today, and of the loves and lives of the chorus girls, some coming up from the scrapheap, some starting out with their eyes full of stars. There's romance, there's danger, there's music, there's dance in the fast-moving stylish cliché of Chicago life – gangsters, molls, chorus girls, musicians, jazz, booze, pills, laughs, disasters. The tale builds up to the climax of the "hit" – but there's a twist and just when everything appears to be resolving itself happily, there's another twist – and all is set to the strident, exciting heartbeat that is Chicago in the days of prohibition, in the days of jazz.


PRINCIPAL MUSICAL NUMBERS
In Chicago (Full Company)
At The Casino (Tony, Girls)
Wish I Could See Him Tonight (Marianne)
Shadow Of A Dream (Tony, Girls)
There's A Lady (Tony)
When I Find My Man (Lola)
I'd Like To Take You Home For My Baby (Roxy, Brains)
From now On (Maxie, Lola, Full Company)


PRINCIPAL CHARACTERS AND VOCAL RANGE
Lola Latrobe (mezzo)
Maxie Tortellini (bass)
Fingers Rafferty (non-singing)
Tony di Martino (baritone)
Marianne (soprano)
Brains (tenor)
Roxy (soprano)


HISTORY
THE NIGHT MAXIE TORTELLINI HIT BIG LOLA LATROBE'S was written for The Portable Theatre Company, West Surrey, and first performed in 1988. It won First Prize at the Croydon Drama Festival and came second at both the Woking Drama Festival and Newport Drama Festival.
In 1989, the Welsh Premiere took place at the Dolman Theatre, Newport, and in 1990 the Scottish Premiere was presented by Quinquireme Productions.


Click here to return to our full list of musicals and operettas.
Warner/Chappell
For further information visit the Warner/Chappell website