Click here to return to our full list of musicals and operettas.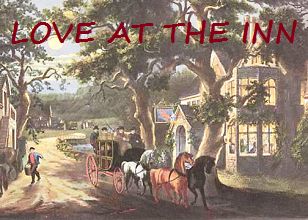 LOVE AT THE INN
Music by Roger Quilter
Lyrics by Rodney Bennett
Libretto by Jeffrey Lambourne

Administered for rental and amateur stage rights by Boosey & Hawkes in the UK.
Licensing performances
If you wish to apply to perform the work, then please send an email to musicals@boosey.com stating the following information only:
1) Name of school/society
2) Where you are (city/town)
3) What you want to perform (Love at the Inn)
4) When you want to perform (if exact dates are not yet known, then please provide the month)
We will then send you an application form by email to complete, along with details of costs involved. Once the form is completed and returned by email, a licence will be emailed to you for signature. Once signed we will be able to send you the music at the date requested on your application form.
Details of hire requirements should be submitted on the application form. We can provide orchestral parts (details below), as well as piano vocal scores and libretti. Please note that you must use live musicians and the use of a backing track is strictly forbidden.
Information
INSTRUMENTATION
2 Flutes
1 Oboe
2 Clarinets
1 Bassoon
2 Horns
2 Trumpets
1 Trombone
1 Timpani
1 Percussion
1 Harp
Strings


THE STORY (The Blue Boar Inn / Longton Hall; 1785)
George Morland is an artist, specialising in portrait painting, who has an intense dislike of the aristocracy. However, this does not prevent him from accepting their commissions and it was one of these occasions that he met and fell in love with Jenny. Although the affair ended when George's love for her dwindled, Jenny has now come searching for her former lover at the Inn where Roberts falls in love with her at first sight. George's attentions have been captured by Anne Ward, on a visit to the Inn with her friend Sophie Longton. Anne knows of George's work through her brother who is his engraver, and is anxious to make his acquaintance. However, hearing of his dislike of the gentry, she pretends to be a farmer's daughter. Her ploy works but when a message arrives from Sir William Longton commissioning George to paint the portraits of his family and household in fancy dress, she is forced to continue with the deception. At first she dresses up as a dairy maid to further the impression of a farmer's daughter but once the sketches of the household are over, the time comes for the main portrait of the evening, and she and Sophie appear clad in gorgeous array. Unfortunately, instead of being captivated by Anne's beauty, George is furious at her deceit and refuses to continue with the painting. Turning his back on Anne, George returns to Jenny. They are preparing to return to London when James Ward, George's engraver, unexpectedly arrives. He has been summoned in desperation by Anne and does not realise that the root of her troubles is his friend. Similarly, George is unaware that James is Anne's brother. James intercedes with George on her behalf and succeeds in reconciling the two of them. Jenny, meanwhile, realising that George does not love her, decides to marry Robert, and events are brought to a happy conclusion.


PRINCIPAL CHARACTERS
George Morland (the Artist)
Anne Ward (Sister of James Ward, the Engraver)
Emma (Hostess if the Inn)
Jenny (a Parlourmaid)
Robert (Head Footman at Longton Hall)
Sir William Longton (his Daughter)
James Ward (the Engraver, Brother of Anne)


PRINCIPAL MUSICAL NUMBERS
When Love Is Ended (Jenny, Morland)
Love Calls Through The Summer Night (Anne, Morland)
Emma, Oh Emma! (Emma)
Laugh At Love (Morland)
What's A Kiss? (Jenny Robert)


Click here to return to our full list of musicals and operettas.
Warner/Chappell
For further information visit the Warner/Chappell website