Click here to return to our full list of musicals and operettas.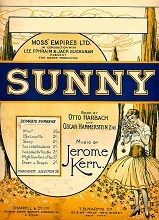 SUNNY
Music by Jerome Kern
Book and Lyrics by Otto Harbach & Oscar Hammerstein 2nd

Administered for rental and amateur stage rights by Boosey & Hawkes in the UK.
Licensing performances
If you wish to apply to perform the musical, then please send an email to musicals@boosey.com stating the following information only:
1) Name of school/society
2) Where you are (city/town)
3) What you want to perform (Sunny)
4) When you want to perform (if exact dates are not yet known, then please provide the month)
We will then send you an application form by email to complete, along with details of costs involved. Once the form is completed and returned by email, a licence will be emailed to you for signature. Once signed we will be able to send you the music at the date requested on your application form.
Details of hire requirements should be submitted on the application form. We can provide orchestral parts (details below), as well as piano vocal scores and libretti. Please note that you must use live musicians and the use of a backing track is strictly forbidden.
Information
INSTRUMENTATION
1 Conductor Score – annotated vocal score
1 Flute
1 Oboe
1 Clarinet 1
1 Clarinet 11
1 Bassoon
1 Horn 1
1 Horn 11
1 Trumpet 1
1 Trumpet 11
1 Trombone
1 Percussion
1 Celeste
2 Violins 1
1 Violin 11
1 Viola
1 Cello
2 Double Bass


THE STORY (USA and England in the early 1900s)
This romantic "twenties" musical embodies all the light heartedness and gaiety associated with the period. It is essentially a love story, centering around three couples, and, as with all the best romances, ends happily. In love with Tom, and seeking escape from a forced marriage to Mr Wendell-Wendell, Sunny stows away on a liner leaving for New York, on which Tom is travelling with his fiancée Marcia. On realising that she will be refused entry to America, Sunny arranges to marry Tom's friend, Jim with understanding that they will divorce as soon as she has her entry permit. Jim agrees, but is worried about the effect on his English girl friend, Weenie. After many problems, Sunny and Jim realise that they love each other, and in the final scene at the Hunt Ball, Weenie and Mr Wendell-Wendell agree to marry, and Tom and Marcia announce their engagement.


PRINCIPAL CHARACTERS
Tom
Sunny
Wendell
Weenie
Jim


PRINCIPAL MUSICAL NUMBERS
Sunny (Tom, Chorus)
Who? (Tom)
D'ye Love Me (Sunny)
Two Little Bluebirds (Weenie, Wendell)
Divorce (Sunny, Jim)
The Fox Has Left His Lair (Jim)


Click here to return to our full list of musicals and operettas.
Warner/Chappell
For further information visit the Warner/Chappell website