Explore choral music
The Boosey & Hawkes choral catalogue ranges from repertoire classics, both sacred and secular, to music for school singing and training. To listen to a selection of choral recordings visit our sound samples area.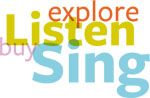 Explore new repertoire from the Boosey & Hawkes Contemporary Choral Series, Choral Treasury and Concerts for Choirs series.
Explore new PDF score samples of all new titles
Listen to 100s of high-quality audio samples
Buy music with confidence from the Boosey shop
Sing some of the finest choral music available
Click here to access the Boosey & Hawkes Choral Explorer.
Leading choral composers
Music by Boosey & Hawkes composers occupies a central position in the choral repertoire, perfomed in the concert hall, church and the recording studio.

Choral best-sellers by Benjamin Britten include Saint Nicolas, Hymn to St Cecilia and A Ceremony of Carols. Large-scale works with orchestra include War Requiem and Spring Symphony. Britten's music is recorded widely including discs on all major labels.

Copland's choral music ranges from the folk song style of Old American Songs and The Promise of Living, through the Four Motets on biblical texts, to his a cappella masterpiece describing the Creation, In the Beginning.

Choral music by this popular British composer includes anthems such as God is Gone Up and the reflective Seven Unaccompanied Part Songs setting poetry by Robert Bridges. Finzi's works with orchestra including the Christmastide In Terra Pax and the Wordsworth cantata Intimations of Immortality.

Meditative religious gems by this leading Polish composer include Totus Tuus. He has also written choral songs in folk style such as My Vistula, Grey Vistula and Broad Waters. Recent Górecki choral works range from the simple hymn-like collection of Church Songs to the hour-long oratorio Sanctus Adalbertus.

Following the success of Adiemus, Karl Jenkins has written a sequence of major choral works, available on best-selling CDs and widely performed. These include The Armed Man: a Mass for Peace, a call for peace at a time of strife, Requiem which combines the Latin Mass for the Dead with Japanese haiku poetry and The Peacemakers which includes settings of texts by St. Francis of Assisi, Gandhi, Mother Teresa and Nelson Mandela.

MacMillan's extensive choral output ranges from simple Scottish ballads, through church settings, to largescale Masses and settings of the Passions. His most performed works include Seven Last Words from the Cross and the sequence of Strathclyde Motets including O Radiant Dawn. For a full list of choral works, view our new web guide to MacMillan's choral music (PDF) including performance tips by Paul Spicer and links to audio clips.

Rachmaninoff's rich choral writing ranges from the religious ceremonies of the Vespers (All Night Vigil) and the Liturgy of St John Chrysostom, to his masterly Edgar Allen Poe setting of The Bells and the cantata Spring.
The B&H Simrock Edition features repertoire by leading choral composers from the 19th century including Brahms and Bruch.
Choral Treasury and Contemporary Repertoire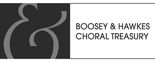 Drawing upon a rich archive, the Boosey & Hawkes Choral Treasury presents a wealth of choral opportunities for choirs of all types and abilities wishing to explore rare repertoire from Rachmaninoff to Howells and beyond. A perfect resource for accessible and inspiring choral masterworks of the twentieth century, this series restores to the catalogue many difficult to obtain sacred and secular classics.
The Boosey & Hawkes Contemporary Choral Series offers an exciting choice of choral pieces by some of the most acclaimed choral composers of today, from established names such as James MacMillan, Karl Jenkins and Einojuhuani Rautavaara, to emerging choral figures such as Will Todd, Joseph Phibbs, Ed Rex, Thomas Hewitt Jones and Gareth Treseder.
Choral Training and Repertoire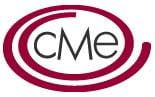 Series Editor: Doreen Rao
Everything you need to train young choirs. Choral Music Experience is a performance-based curriculum for music education developed by award-winning educator Doreen Rao. It brings a new integrated approach to music education, combining the development of performance skills with the acquisition of musical knowledge. In the past, these complementary aspects of music have been taught and treated separately. Today we know that when students perform, they are demonstrating their knowledge - they are singing their understanding. Guided by this performance model, Doreen Rao's Choral Music Experience focuses on distinctive, diverse, multicultural choral repertoire in which students can experience the joy of learning through singing. An invaluable resource for conductors, teachers and student teachers.
Betty Bertaux's works have expanded the body of quality repertoire for young singers. Her original compositions are tonally based and characterised by 20th century freshness. Her folk song arrangements are carefully conceived to capture the essence and spirit of the song material. Betty Bertaux's music combines the best elements of musicality and pedagogical concerns.
Series Editor: Francisco Nunez
Transient Glory introduces newly commissioned choral music by the world's major composers created to celebrate the profoundly transcendent nature of young singing voices. Launched in the year 2000, Transient Glory began as a concert performance series of the Young People's Chorus of New York City conducted by Francisco J. Nunez to advance the art of children's choirs throughout the world. The Transient Glory choral series is designed and developed by its editor as a commitment to young voices singing glorious music during that short, transient period of childhood.

High quality repertoire for children's and youth choirs, specially selected and arranged by the leading US educationalist Mary Goetze.
Classroom Singing
This best-selling series by leading UK educationalists Val Whitlock and Shirley Court is great fun and guaranteed to get even the most reluctant pupils singing. Each book contains a wide variety of songs, warm-ups, raps and games specially written for young voices, a demonstration CD that brings the music to life and helps you teach the songs, and fact files and case notes which shows teachers how to use the songs in the classroom.
Sale and Rental
You can buy choral music from our Online Shop or from your local dealer, and search our extensive catalogue of choral music using our Catalogue Search.
Page Menu
Explore choral music
Boosey & Hawkes Choral Explorer
Leading choral composers
Benjamin Britten
Aaron Copland
Gerald Finzi
Henryk Mikolaj Górecki
Karl Jenkins
James MacMillan
Sergei Rachmaninoff

Choral Treasury and Contemporary Repertoire
Choral Treasury
Contemporary Choral Series
Choral Training and Repertoire
Choral Music Experience
Betty Bertaux Choral Series
Transient Glory
Mary Goetze Choral Series
Classroom Singing
Singing Sherlock
Sale and Rental

Whitacre: Join the World's largest Virtual Choir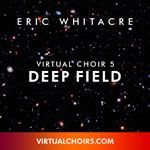 Submissions for Eric Whitacre's Virtual Choir 5: Deep Field are open between 5 and 27 June 2018. Singers are invited to join the soundtrack for an extraordinary new film with imagery taken by the Hubble Space Telescope, to be released online and for screening in later 2018.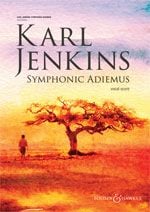 Karl Jenkins
Symphonic Adiemus
for mixed choir and orchestra

A new SATB version of this classic score enables mixed choirs to perform the entire work for the first time.