Deutsch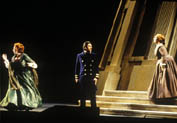 Photo: Dan Rest
Performed by The Chicago Lyric Opera , October 1998, director Liviu Ciulei
Levy, Marvin David
Mourning Becomes Electra (1967, revised 1998-2002)
Duration: 150 minutes
Lyric tragedy in three acts
Libretto by Henry W Butler after the play by Eugene O'Neill (E,G)
Scoring
dramS,lyrS,S,heldBar,Bar,lyrBar,BBar,B; chorus 2.picc.2.corA.2..bcl.2.dbn-4.3.3.1-timp.perc(3):BD/SD/TD/susp.cym/cyms/Indonesian gong (or tam-t)/tamb/wdbl/tpl.bls/cast/tgl/ratchet/whip/claves/bongos/tom-t/guiro/siren/glsp/vib/t.bells/xyl/ant.cyms/tuned bells-harp-2kybd samplers-strings; stage band:2hn.tpt.2trbn-perc:trap drum set or 2 kybd samplers reduced orchestra version (in preparation): 2.picc.2.2.2.-4.3.3.0-timp.perc(1)-harp-2kybd samplers-strings; stage band:2hn.tpt.2trbn-perc:trap drum set or 2 kybd samplers .
Abbreviations (PDF).
Territory
This work is available from Boosey & Hawkes for the world.
World Premiere
3/17/1967
Metropolitan Opera House, New York, New York
Michael Cacoyannis , director
Conductor: Zubin Mehta
Company: The Metropolitan Opera
World premiere of version
10/18/2003
Marion Oliver McCaw Hall, Seattle
Bartlett Sher, director
Conductor: Richard Buckley
Company: Seattle Opera
Roles

| | |
| --- | --- |
| CHRISTINE MANNON | Dramatic Soprano |
| LAVINIA MANNON | Soprano dramatic/spinto |
| ORIN MANNON | High Baritone/Dramatic Tenor |
| CAPTAIN ADAM BRANT | Dramatic Baritone |
| GENERAL EZRA MANNON | Bass |
| HELEN NILES | Lyric Soprano |
| CAPTAIN PETER NILES | Lyric Baritone |
| JED | Bass |
| Soldiers, Servants, Townspeople, Sailors, Dockworkers, Fieldworkers | |
Time and Place
spring and summers of 1865-66, a small town in New England
Synopsis
Ezra Mannon returns from the Civil War. His wife Christine has been having an affair with Adam Bryant. Lavinia, Ezra's daughter, hates her mother and knows about the affair. Later, Christine tells Brant that she means to kill Ezra. When Ezra and Christine are alone that night, she exposes her affair, hoping Ezra will have a heart attack. He asks for his medicine, but she gives him poison instead. As he dies, Lavinia hears him accuse Christine of poisoning him. Orin, Lavinia's brother, returns home from war, and Lavinia draws Orin aside and tells him about the poison. Orin vows to avenge his father's death. They secretly follow Christine to a rendezvous with Brant aboard his ship and hear her describe Ezra's murder to him. Once Christine is ashore, Orin stabs Brant to death. The next morning, Orin tells his mother of Brant's death and she shoots herself. Lavinia offers herself to her brother. After a year, Orin and Lavinia return from a long holiday in the tropics. Lavinia comes back rested, but Orin is consumed by guilt. Lavinia drives Orin mad, and he shoots himself with the gun she hands him. Lavinia also goes mad, and she retreats into her house, alone.
Moods
Dramatic, Tragic
Subjects
Relationships