Deutsch
Pfitzner, Hans
Das Christ-Elflein (1906, rev.1917)
(The Little Elf of Christ)
Duration: 90 minutes
Opera in two acts
Libretto by the composer after the Christmas story by Ilse von Stach (G)
Scoring
Major roles: 2S,T,Bar,2B; minor roles: T,B,2speakers,mime; chorus 2(II=picc).2(II=corA).2.2-2.1.0.0-timp.perc:tgl/tam-t/tamb/t.bells- harp-strings; tpt on stage.
Abbreviations (PDF).
Territory
This work is available from Boosey & Hawkes for all countries except Germany, Italy, Portugal, Danzig, and the former territories of the USSR.
World Premiere
11/12/1906
Hoftheater, Munich
Conductor: Felix Mottl
Company: unknown
World premiere of version
11/12/1917
Court Opera, Dresden
Conductor: Fritz Reiner
Company: Dresden Court Opera
Roles

| | |
| --- | --- |
| THE CHRISTELF | High Soprano |
| THE CHRISTCHILD | Soprano |
| THE OLD FIR TREE | Low Bass |
| KNECHT RUPRECHT | Bass |
| HERR VON GUMPACH | Baritone |
| FRIEDER, his son | Tenor |
| FRANZ, servant of Gumpach | Buffo Bass |
| JOCHEN, servant of Gumpach | Buffo Tenor |
Time and Place
A wood in the middle of winter
Synopsis

Herr von Gumpach and his wife have two children -- their son Frieder and their daughter Trautchen. Both children have been brought up to believe in Christmas, but Frieder has lost his belief, and when his sister falls ill it seems likely she will die. Trautchen badly wants a Christmas tree, and it is the Christ-child who eventually supplies one before curing her of her illness. His sister's recovery encourages Frieder to pray again. Since God was expecting a soul to go up to Heaven, the Christ-child sends an elf instead, who thus becomes the Christelflein. As a reward he is allowed to visit his friend the Old Fir Tree every Christmas Eve. The angels sing of peace on earth, the Old Fir Tree of God's blessing of his people.
Moods
Poetic
Subjects
Magic/Mystery, Religion
Recommended Recording

Marlis Petersen, Martina Rüping, Kevin Connors, Christian Bauer, Andreas Hörl, Michael Volle, Friedemann Röhlig, Richard Salter, Andrea Sokol, Tölzer Knabenchor, Münchner Rundfunkorchester, Claus Peter Flor.
CPO 777 155-2 (two CDs)
Click here to purchase this CD set from Amazon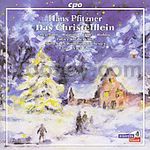 Mailing List
Sign up for news updates and offers via email
SIGN UP
ONLINE SCORES