Deutsch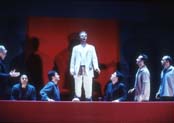 Photo: Mike Hoban
Glyndebourne 2001, Martin Duncan, dir
Birtwistle, Harrison
The Last Supper (1998-99)
Duration: 110 minutes
Dramatic tableaux for 14 soloists, small female chorus and chamber orchestra
Robin Blaser (E-L)
Scoring
Main roles: S,T,Bar Secondary roles: 2CT,4T,2Bar,BBar,2B Chorus*: 3S,3M,3A; pre-recorded female chorus; pre-recorded mixed chorus 2(=picc,afl).2(=corA).2(I=Ebcl,bcl,II=bcl,dbcl).2(I,II=dbn)- 2.2.2(I=btpt,btrbn,II=btrbn).*1-timp.perc(2):2tgl/mark tree/4wdbl/4tpl.bl/guiro/ cabaca/tamb/4bongos/2tom-t/2military dr/TD/2BD(sm,lg)/2hi-hats/ 3susp.cym(+bow)/tam-t(lg)/tam-t*/nipple gong(lg)/nohharp*-synth.sampler+kbd or laptop+kbd-accordion*-strings(0.0.6.4.3)

* amplified.
Abbreviations (PDF).
Territory
This work is available from Boosey & Hawkes for the world.
World Premiere
18/04/2000
Staatsoper, Berlin
Martin Duncan, director
Conductor: Daniel Barenboim
Company: Deutsche Staatsoper Berlin
Roles

| | |
| --- | --- |
| CHRIST | Baritone |
| JUDAS | Tenor |
| GHOST | Soprano |
| LITTLE JAMES | Counter-tenor |
| JAMES | Counter-tenor |
| THOMAS | Tenor |
| ANDREW | Tenor |
| SIMON | Tenor |
| BARTHOLOMEW | Tenor |
| PHILIP | Baritone |
| JOHN | Baritone |
| MATTHEW | Bass-Baritone |
| THADDEUS | Bass |
| PETER | Bass |
| Chorus Mysticus (amplified) | 3 Sopranos/3 Mezzo-Sopranos/3 Altos |
| Chorus Resonus (pre-recorded) | 3 Sopranos/3 Mezzo-Sopranos/3 Altos |
| Chorus in Visions I-III (pre-recorded) | 3 Sopranos/3 Mezzo-Sopranos/3 Altos/3 Tenors/3 Baritones/3 Basses |
Time and Place
Contemporary
Synopsis

Ghost, a representative of ourselves, invites Christ and his disciples to join us once again in our own age for supper. Eleven disciples enter, starting with Peter, either singly or in pairs. They do not know why they have been called to be reunited or whether Judas or Christ will reappear. They reassemble the table from fragments, dance in celebration, and sing the Lord's Prayer. Judas appears bearing a red cloth for the table. He attempts to explain his actions, but arguments and recriminations fly, leading to the question 'Who is the betrayer and what has been betrayed?' Christ suddenly appears among them and a first Vision depicts the Crucifixion. Christ tells the disciples that he has returned to wash the dust of twenty centuries off their feet. He leads the twelve, including Judas, to the table, saying: 'Come take your places. Each place is in the heart of things'. A second Vision depicts the Stations of the Cross. Christ reaffirms a faith of love, after two millennia of 'bestiality and vileness'. The twelve disciples and Christ walk into the garden amidst the olive trees. A third Vision depicts The Betrayal. Christ's voice is heard saying 'Whom do you seek?' and a cock crows.
Press Quotes
"...a magnificent and enthralling work... Birtwistle has created a powerfully melancholic soundworld, at once richly lyrical and hieratic."
The Observer

""Who is the betrayer? What has been betrayed?" Christ taunts his disciples. And with those words he forces the 11 to re-admit Judas to the circle of apostles... Ultimately Christ and the apostles enter the olive garden. The cock crows. The end. What hardly seems like musico-dramatic material is transformed into an utterly gripping uninterrupted two hours of music theatre thanks to a compelling libretto by Blaser and the unyieldingly riveting music of Birtwistle."
Die Welt
Moods
Poetic
Subjects
Contemporary, Ethics, Mythology, Religion, Society, Literary
Mailing List
Sign up for news updates and offers via email
SIGN UP
ONLINE SCORES