Deutsch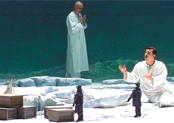 Photo: Sebastian Hoppe
Basel 2006 (FP), Claus Guth, dir.
Oehring, Helmut
UNSICHTBAR LAND (2004/05)
(Invisible Land)
Duration: 110 minutes
Opera in 7 days, based on William Shakespeare: 'The Tempest', with added music by Henry Purcell
Helmut Oehring, Torsten Ottersberg and historical sources (G-E)
Scoring
3 deaf sign language artists; S,M,CT,T,BBar; speaker; chorus(12S.8A.10T.10B); solo elec.git; solo trp; solo bcl; 2(I,II=picc).0.1.bcl.tsax.0.dbn-3.3.3.1-perc(3)-tuned pft(=cel)-strings(4.2.0.6.6); baroque ensemble:2ob.1bn-theorbe-vla da gamba-cem(=org)-strings(2.2.1.1.1)-live electronics-2video beamer,3slide projector,sliding overtitle projection .
Abbreviations (PDF).
Territory
This work is available from Boosey & Hawkes for the world.
World Premiere
07/05/2006
Theater, Basel
Claus Guth, director
Conductor: Jürg Henneberger
Company: Ensemble, Chor und Orchester des Theaters Basel
Synopsis
In UNSICHTBAR LAND (Invisible Land), two stories are interwoven: Shakespeare's 'The Tempest' and a failed expedition into an icy landscape. Foreign worlds meet and merge into each other.

In Shakespeare's 'The Tempest', Prospero lives with his daughter Miranda on a lonely island after having been expelled from his court. He has made the two inhabitants of the island, the spirit Ariel and the 'savage' Caliban, into his subjects. Using magical powers and Ariel's assistance, Prospero raises a storm in order to shipwreck his court opponents on the island. While the courtiers are wandering about the island, Prospero arranges a meeting between Miranda and young Ferdinand – the two fall in love. Eventually Prospero discloses his real identity to his enemies and forgives them. Renouncing magic, he releases Ariel.

On 15 December 1914, the polar explorer Sir Ernest Shackleton sets sail with his expedition vessel 'Endurance.' On the vessel there are 27 official expedition members and one stowaway. The aim of the journey is to be the first to cross the antarctic continent from coast to coast via the pole. Shackleton and his team do not reach their destination. The 'Endurance' is locked in drifting pack-ice, and, a few months later, crushed by several tons of ice. The team escapes to drifting ice floes. A march for survival begins, ending on an uninhabitated island. It was not until 30 August 1916 that the final members of the crew were rescued.
Bettina Auer
Moods
Dramatic, Poetic
Subjects
Literary
Mailing List
Sign up for news updates and offers via email
SIGN UP
ONLINE SCORES