Deutsch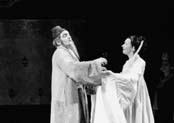 Photo: Anne Kirchbach
Staatsoper München, 1972, Director: Günter Rennert
Yun, Isang
Sim Tjong (1971-72)
Duration: 110 minutes
Korean legend in two acts with prologue and epilogue
Libretto by Harald Kunz (G)
Scoring
10S,2M,3A,4T,4Bar,9B (doubled roles possible); chorus; 3(II=picc,III=picc,afl).3(III=corA).3(III=bcl).3(III=dbn)-4.4.3.1-timp.perc(3)-harp-cel-strings .
Abbreviations (PDF).
Territory
This work is available from Boosey & Hawkes for the world.
World Premiere
8/1/1972
Staatsoper, München
Günter Rennert, director
Conductor: Wolfgang Sawallisch
Company: Bayerische Staatsoper
Roles

| | |
| --- | --- |
| SIM TJONG, a reborn angel | Lyric Soprano |
| SIM, her father on earth | Baritone |
| LI, her mother on earth and OK-TJIN, her mother in heaven | Lyric Soprano |
| PAENGDOK, a neighbour | Contralto |
| MENDICANT FRIAR | Bass |
| EMPEROR | Baritone |
| SHIP OWNER | Bass |
| CAPTAIN | Baritone |
| PARK, a young lover | Tenor |
| 2 Bosal = BODDHISATTVAS | Tenor, Contralto |
| 3 WOMEN AT THE WELL | Soprano, Mezzo Soprano, Contralto |
| DOOR KEEPER | Bass |
| COOK | Mezzo Soprano |
| OLD SAILOR, YOUNG SAILOR | Bass, Tenor |
| 5 BRIDES OF THE DRAGON KING | 5 Sopranos |
| DRAGON KING | 5 Basses |
| 2 COURTIERS | Tenor, Baritone |
| Gods, sailors, the royal court | |
Synopsis

The mythical fairy story about the fate of Sim Tjong is one of the oldest and most popular stories of Korea: an old and blind man, who is very poor, has a daughter late in life whose mother dies in childbirth. When the girl is almost fully grown, the blind man meets a monk with whom he makes a pact. For a very large sum of money – compared to his slender means – which he will donate to the temple, the old man wishes to have his sight restored. In order to meet her father's debts, the girl sells herself to seamen who are looking for a sacrificial victim for the Dragon King. She jumps into the sea, finds the crystal palace of the Dragon King and, after some time has passed, she leaves the water world and returns to the earth. She encounters the Emperor, who makes her his wife. The Emperor has a search made for the old blind man who, in the meantime, is totally impoverished, and he is brought to the court. His daughter opens his eyes... Typical of the fundamental Taoist stance of the tale is that Sim Tjong's changes of existence are completely taken for granted. An apsaras (angel, fairy) from the supernatural realm, she first becomes a human being. She commits suicide and sinks down into the underworld of non-consciousness, into the autonomic plane of existence of plants. However, she does not stay within the sphere of the yin principle – feminine, water, darkness – but is reborn into another life on a higher plane of existence that corresponds to the yang principle – active masculine, near to the heavens and light. Like her father, she will return to the heavens once her task has been completed.
Harald Kunz
Moods
Dramatic
Subjects
Magic/Mystery, Mythology, Relationships, Society
Items on Sale
Mailing List
Sign up for news updates and offers via email
SIGN UP
ONLINE SCORES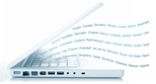 Explore our library of over 1000 online scores
VIEW SCORES