Deutsch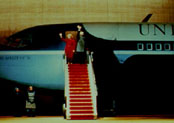 Photo: Houston Grand Opera 1988
Adams, John
Nixon in China (1987)
Duration: 177 minutes
An opera in three acts
Libretto by Alice Goodman (E,G)
Scoring
solo voices: colS,lyrS,3M,T,lyrBar,Bar,BBar; chorus; dancers
2(I,II=picc).2(II=corA).3(I=Ebcl;II,III=bcl).4sax(S,2A,Bar).0-0.3.3.0-perc(1):BD/pedal BD/wdbl/susp.cym/SD/sandpaper blocks/tamb/hi-hat/TD/sizzle cym/glsp/slapping sound/tgl/sleigh bells-2elec pft-synth or sampler (Kurzweil K2000)-strings(minimum:6.6.4.4.2)

NOTE: The hiring of a sound designer is a condition/requirement for permission.

For complete technical specifications go to: mhgrey.wordpress.com.
Abbreviations (PDF).
Territory
This work is available from Boosey & Hawkes for the world.
World Premiere
22/10/1987
Wortham Theater Center, Houston, TX
Peter Sellars, director / Mark Morris, choreographer
Conductor: John DeMain
Company: Houston Grand Opera
Roles

| | |
| --- | --- |
| Chou En-lai | Baritone |
| Richard Nixon | Baritone |
| Henry Kissinger | Bass-baritone |
| Nancy T'ang (First Secretary to Mao) | Mezzo-soprano |
| Second Secretary to Mao | Mezzo-soprano |
| Third Secretary to Mao | Mezzo-soprano |
| Mao Tse-tung | Tenor |
| Pat Nixon | Lyric soprano |
| Chiang Ch'ing (Madame Mao Tse-tung) | Coloratura soprano |
Time and Place
1972, Peking, China
Synopsis
Chou En-Lai, a small group of officials, and contingents of China's military forces are on hand to greet the arrival of President Nixon, the First Lady, and Secretary of State Henry Kissinger at an airfield outside Beijing. Elated, the President pauses to reflect on the historical significance of this encounter, which is being televised worldwide. He meets with Chairman Mao, who speaks largely in parables and veiled references. The President and Mrs. Nixon attend a banquet held in their honor; Premier Chou offers a toast to patriotic fraternity, the first of several throughout the evening. Mrs. Nixon tours a glass factory, a collective farm, and the Summer Palace. The Nixons attend an opera, The Red Detachment of Women, created by Mao's wife, Chiang Ch'ing. The plight of the heroine, a downtrodden peasant girl, draws them into the action. Sensing that the Nixons have missed the ideological message of her opera, Chiang Ch'ing gives voice to her revolutionary fervor. During the last evening of the Presidential visit, the Nixons, Chairman Mao and Chiang Ch'ing, and Premier Chou reminisce privately about their lives.
Moods
Dramatic, Poetic
Subjects
History, Mythology, Politics, Society
Recommended Recording
James Maddalena / Sanford Sylvan / Carolann Page / John Duykers / Trudy Ellen Craney / Thomas Hammons
Orchestra of St. Luke's / Edo de Waart
Nonesuch 7559-79177-2
Click here to purchase this CD from our online shop
Mailing List
Sign up for news updates and offers via email
SIGN UP
ONLINE SCORES