English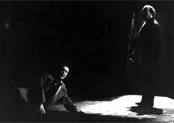 Foto:Boris B. Quednow
Bonn 1997, Gian-Carlo del Monaco dir.
Mascagni, Pietro
William Ratcliff (1882-89/93-94)
(Guglielmo Ratcliff)
Duración: 120 minutos
Opera in four acts
Libretto based on the poem of the same title by Heinrich Heine, translated by Andrea Maffei; German version by Emil Taubert (I,G)
Orquestación
S,2M,5T,2Bar,4B; mixed chorus; 2.picc.2.corA.2.bcl.2.dbn-4.3.3.1-timp.perc(3):BD/cym/SD/tam-t/glsp/tgl-2harp-strings; on-stage: ob.2bn-hn.5trbn-perc:bells (This work is published and distributed for stage performances by Boosey & Hawkes / Bote & Bock in Germany, Austria, Hungary, the Czech Republic, Slovakia, Slovenia, Croatia, Bosnia and Herzegovina, Serbia, Montenegro and in German speaking Switzerland.).
Abreviaturas (PDF).
Territorio
Este trabajo está disponible a través de Boosey & Hawkes Bote & Bock para Alemania, Austria, Hungría, la República Checa y Eslovaquia, Eslovenia, Croacia, Bosnia-Herzegovina y Suiza (Alemán) .
Uraufführung
2/16/1895
Teatro alla Scala, Milano
Bauda, Regisseur
Director: Pietro Mascagni
Compañía: Giovanni Battista De Negri (Ratcliff) / Adelina Stehle (Maria) / Giuseppe Pacini (Douglas) / Renée V
Ánimos
Romantic, Tragic
Temas
Relationships, Society
Grabación recomendada
Agora Musica (Ita)
Click here to purchase this CD from Amazon