English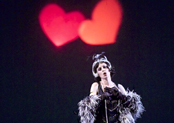 Foto:Festival della Valle d'Itria
Martina Franca, 2005 (WP of new edition), Davide Livermore dir.
Cherubini - Bock/Geyer (CHERUBINI-EDITION)
Lo sposo di tre e marito di nessuna (1783)
(The Betrothed of Three and the Husband of None)
Duración: 150 minutos
Dramma giocoso per musica
Libretto by Filippo Livigni, based on Carlo Goldoni's "La bottega del caffè" (I)
Orquestación
3S,T,3Bar; 2.2.corA.0.1-2.0.0.0-continuo-strings.
Abreviaturas (PDF).
Territorio
Este trabajo está disponible a través de Boosey & Hawkes para el mundo.
Uraufführung
11/1/1783
Teatro San Samuele, Venice
Compañía: (WP: Nov 1783, exact date unknown)
Erstaufführung der Fassung
7/24/2005
Palazzo Ducale, Martina Franca
Davide Livermore, Regisseur
Director: Dimitri Jurowski
Compañía: Orchestra Internazionale d'Italia
Nota del repertorio
Cherubini's Lo Sposo di tre e marito di nessuna was a big success – indeed, the composer's first successful opera buffa. The work, which was premiered at the Teatro di San Samuele in Venice in 1783, showed Cherubini's talent for the "other" opera genre, the burlesque, the comic opera, or dramma giocoso. He based his piece on a popular, satirical and parodistic drama, Goldoni's La bottega del caffè. This burlesque play about dressing up and mistaken identity draws heavily upon the tradition of the Italian commedia dell'arte, with the pair of actors, the reflections on the love-stricken elderly gentlemen, the parody of Pantalone, the advocate scene, etc.

The music of this opera is a cavalcade of highly amusing, sometimes also deadly serious ensemble scenes which are effectively orchestrated. This is illustrated by the big chain finali, in particular the finale of the first act, in which all those involved eventually end up in a state of delirium which is accompanied by a delicious parody of thundering organ sounds, or the ombra scene, a spooky, bogus consultation with a ghost in the second act. On the other hand, there are highly virtuoso, sometimes touching arias that demand great skill from the female protagonists, Donna Rosa and Donna Lisetta, both of whom are seria characters. The male protagonists range from the wonderful baritone buffo Don Pistacchio, who also needs to be a very good actor, to the tenor Don Martino, a character who is sometimes portrayed in a rather sentimental way. Originally, two ballets were planned to form part of the opera, as an introduction and conclusion. The interpretation of these are now left up to the individual production – just as it was in Cherubini's times.
Ánimos
Comic
Temas
Relationships
Grabación recomendada
Festival della Valle d'Itria, Martina Franca 2005 (FP of new edition)
Dynamic CDS 503/1-2
Click here to purchase this CD from Amazon
Artículos en venta
| | | |
| --- | --- | --- |
| Lo sposo di tre e marito di nessuna | (full score) Critical Edition | > Detalles |