English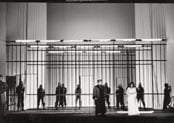 Foto:Magdeburg Theatre / Jürgen Banse
Theater der Landeshauptstadt Magdeburg 1994, Max K. Hoffmann, dir
Goldschmidt, Berthold
Beatrice Cenci (1949/50)
Duración: 110 minutos
Opera in 3 Acts
Libretto by Martin Esslin after Shelley's verse drama 'The Cenci' (E)
Orquestación
S, M, A, 3T, 2Bar, 2B; chorus 3(III=picc).3(III=corA).3(III=bcl).3(III=dbn)-4.3.3.1-timp.perc(2/3): susp.cym/BD/tgl/xyl/glsp/vib/cyms/tam-t/lg tam-t/t.bells/TD/SD-harp- strings.
Abreviaturas (PDF).
Territorio
Este trabajo está disponible a través de Boosey & Hawkes para el mundo.
Uraufführung
4/16/1988
Queen Elizabeth Hall, London
Director: Odaline de la Martinez
Compañía: Pro Musica Chorus of London / London Chamber Symphony
Bühnen-Erstaufführung
9/10/1994
Magdeburg
Max K. Hoffmann, Regisseur
Director: Mathias Husmann
Compañía: Theater Magdeburg
Nota del repertorio
Goldschmidt's second opera was one of four prize-winning works in the British Arts Council's 'Festival of Britain' competition in 1949, but it never received the promised performance and had to wait forty years for its concert premiere in London in 1988 and its staged premiere in Magdeburg in 1994. Consciously written in a modern 'bel canto' idiom, Beatrice Cenci is a more opulent and romantic opera than its predecessor and contains some of Goldschmidt's most passionate and eloquent music.
Ánimos
Dramatic, Tragic
Temas
Contemporary, Ethics, History, Relationships, Literary
Grabación recomendada
Simon Estes, Della Jones, Roberta Alexander, Fiona Kimm, Peter Rose, Erich Wottrich, Siegfried Lorenz, Reinhard Beyer, Stefan Stoll, John David de Haan, Ian Bostridge, Berlin Radio Chorus, Berlin Deutsches Symphony Orchestra, Lothar Zagrosek
Sony S2K66836
Click here to purchase this CD from Amazon