English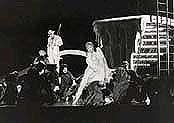 Foto:Komische Oper / Arwid Lagenpusch
Komische Oper Berlin 1994, Harry Kupfer, dir
Goldschmidt, Berthold
Der gewaltige Hahnrei (1929-30)
(The Magnificent Cuckold)
Duración: 105 minutos
A Musical Tragi-comedy in 3 Acts
Libretto by the composer after Fernand Crommelynck's 'Le Cocu Magnifique' (G,E)
Orquestación
2S,2A,3T,Bar,2B;chorus 3(I,II,III=picc).2.corA.1.Ebcl.bcl.2ssax(ad lib).2.dbn-4.3.3.1- timp.perc(4):xyl/glsp/BD/SD/TD/chinese dr/wdbl/cyms/tam-t/tgl-harp- strings-stage band:0.1.1.1-1.1.1.0-perc:BDwithcym.
Abreviaturas (PDF).
Territorio
Este trabajo está disponible a través de Boosey & Hawkes para el mundo.
Uraufführung
2/14/1932
Nationaltheater, Mannheim
Richard Hein, Regisseur
Director: Joseph Rosenstock
Compañía: Nationaltheater Mannheim
Nota del repertorio
Composed to his own libretto on a play by Fernand Crommelynck and described by Goldschmidt as a 'tragi-comedy', Der gewaltige Hahnrei is one of the most remarkable of those operas whose performance momentum was cruelly cut short by the rise of Nazism in Germany in the early 1930s. The story of how Bruno irrationally suspects his wife Stella of being unfaithful and then forces her to sleep with his best friend to end his uncertainty is open to interpretation on several levels. Since its rediscovery and the acclaimed first recording on Decca's 'Entartete Musik' label, the opera has enjoyed highly successful stage productions in Berlin, Bern and Darmstadt, confirming its status as a gripping piece of music drama. An orchestral suite from the opera is also available for performance (see works for Full Orchestra).
Ánimos
Comic, Tragic
Temas
Ethics, Relationships, Society, Literary
Grabación recomendada
Roberta Alexander/Robert Wörle/Michael Kraus/Claudio Otelli/Helen Lawrence/Rundfunkchor Berlin/Deutsches Symphonie-Orchester Berlin/Lothar Zagrosek
Decca Entartete Musik 440 850-2
Click here to purchase this CD from Amazon