English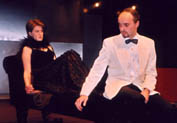 Foto:Anthony Davie
New World Opera, Bridewell Theatre, London, February 2001
Rorem, Ned
Fables (1971)
Duración: 25 minutos
Five very short operas
Text: poems by Jean de La Fontaine (E)
Orquestación
Variable scoring: at least 2 singers, mimes ad lib; pft.
Abreviaturas (PDF).
Territorio
Este trabajo está disponible a través de Boosey & Hawkes para el mundo.
Uraufführung
5/21/1971
Fine Arts Building, Martin, Tennessee
Director: Marilyn Jewett
Compañía: University of Tennessee
Nota del repertorio
The composer has woven together four short operas that work together as one piece or as four independent songs. When presented as a group, they are to be performed in the following order, without pause between sections: 1. The Lion in Love; 2. The Sun and the Frogs; 3. The Fox and the Grapes; and 4. The Animals Sick of the Plague. The Lion in Love is a free-flowing soliloquy and the only one of the four works sung without a chorus of two performers. One performer, plumed hat in hand, perhaps dedicates the music to Madame de Sévigné's haughty daughter, seated frozen in profile. Or, perhaps the first piece may be shared by several singers, each beginning where the other has left off. The four works are accompanied by piano and may be performed directly by singers or performed by mimes illustrating the poems heard from off stage. They may be realized as lyric theater, ballet, cantata, or in any combination of these forms, as resources allow.
Ánimos
Dramatic, Poetic
Temas
Ethics, Literary
Artículos en venta
| | | |
| --- | --- | --- |
| Fables (5 Very Short Operas) | (Vocal Score) | > Detalles |