English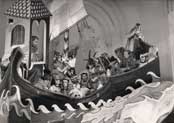 Foto:Camera Press
Aldeburgh Festival, 1958
Britten, Benjamin
Noye's Fludde (1957)
Duración: 50 minutos
The Chester Miracle Play set to music by Britten, for adults' and children's voices, children's chorus, chamber ensemble and children's orchestra
The text is from 'English Miracle Plays, Moralities and Interludes' (E,F,G,I,Pt,S)
Orquestación
A,BBar,speaker; children's roles: 3Tr,3S,chorus professional orchestra:treble recorder-pft(4hands)-org-timp-string quintet; amateur/children's orchestra: recorder band-bugles-perc:hand-bells/BD/TD/SD/tamb/cyms/tgl/whip/gong/Chin.bl/wind machine/sandpaper/slung mugs-strings .
Abreviaturas (PDF).
Territorio
Este trabajo está disponible a través de Boosey & Hawkes para el mundo.
Uraufführung
6/18/1958
Orford Church, Aldeburgh Festival
Colin Graham, Regisseur
Director: Charles Mackerras
Compañía: Aldeburgh Festival
Nota del repertorio
Noye's Fludde, completed in December 1957 and first performed during the 1958 Aldeburgh Festival, is his most extended and elaborate work for children. In common with Saint Nicolas and The Little Sweep, the work is written in such as way as to combine professional and amateur performers, the music often tailored to take account of the abilities of less accomplished players but without any sense of compromise or writing down. Most of the main vocal parts are written for children (the exceptions being Noye himself, Noye's wife and the Voice of God) and the orchestral forces comprise strings, recorders, bugles, handbells and a large assortment of percussion including such home-made instruments as sandpaper blocks and slung mugs. The congregation also gets the opportunity to participate in three hymn-settings, 'Lord Jesus, think on me', 'Eternal Father, strong to save' and 'The spacious firmament'.
Britten's unerring skill in seamlessly integrating these various elements with musical invention of a consistently high quality is undoubtedly one of his finest achievements while the church setting and general method of presentation clearly point the way forward to the 'Church Parables' of the 1960s.
Reproduced by kind permission of the Britten-Pears Library
Ánimos
Comic, Poetic
Temas
Environment, Ethics, Religion
Grabación recomendada
Owen Brannigan/Sheila Rex/David Pinto/Darien Angadi/Stephen Alexander/Trevor Anthony/Caroline Clack/Marie-Thérèse Pinto/Eileen O'Donovan/English Opera Group Orchestra/Norman Del Mar
Decca 436 3972
Click here to purchase this CD set from Amazon
Artículos en venta
| | | |
| --- | --- | --- |
| Hymn Sheet from Noye's Fludde | Hymn Sheet (English) | > Detalles |
| Noye's Fludde Choral Score | (Choral Score) | > Detalles |
| Noye's Fludde Op59 | Hymn Sheet (German) | > Detalles |
| Noye's Fludde, op. 59 - full score | (Full score) | > Detalles |
| Noye's Fludde, op. 59 - production notes | Book | > Detalles |
| Noye's Fludde, op. 59 - study score | Study Score - Hawkes Pocket Score 761 | > Detalles |
| Noye's Fludde, op. 59 - vocal score | (Vocal Score) (English, German) | > Detalles |