English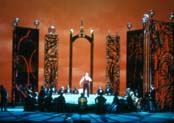 Foto:Metropolitan Opera / Winnie Klotz
Metropolitan Opera 2001, Temur Chkheidze, dir
Prokofieff, Serge
The Gambler (1915-17, rev.1927-28)
Duración: 130 minutos
Opera in four acts and six scenes
Libretto by the composer after the novel by Dostoevsky (R,E,F,G,I)
Orquestación
Major roles: S,M,A,2T,Bar,B; minor roles: 2S,2M,A,Tfalsetto,7T,4Bar,7B,mimes 2.picc.2.corA.2.bcl.2.dbn-4.3.3.1-timp.perc:cyms/BD/t.mil/tgl- 2harp-pft-strings.
Abreviaturas (PDF).
Territorio
Este trabajo está disponible a través de Boosey & Hawkes para el mundo.
Uraufführung
4/29/1929
Théâtre Royal de la Monnaie, Brussels
Director: Corneil de Thoran
Compañía: Theatre de la Monnaie
Nota del repertorio
Prokofieff's The Gambler can be viewed as the culmination of the composer's early radical and experimental period, with its mechanistic ostinatos and febrile energy, perfectly attuned to Dostoyevsky's study of obsession. The casino, as a potent symbol of unexpected financial gain or ruin, emerges in the final act as the central character of the opera, controlling the destiny of all those that are drawn to the gambling tables, like moths to a flame. Prokofieff intended the work as a reaction against Romantic lyricism, instead preferring to create "an opera in the declamatory style", closer in technique to the stageworks of Dargomyzhsky and Mussorgsky which set musical prose in natural speech rhythms. The Gambler provides an opera company with a potential ensemble showcase, from the two main roles of Alexei and Pauline calling for top rank singing actors, through a gallery of cameo characters, to opportunities for members of the chorus in the casino tableau. From the opening bars the work also announces a crucial role for the orchestra, driving the action forward, and depicting in swirling splashes of colour the fateful spinning of the roulette wheel.
Ánimos
Comic, Dramatic
Temas
Ethics, History, Society, Literary
Grabación recomendada
Vladimir Galuzin/Liubov Kazarnovskaya/Sergei Alexashkin/Elena Obraztsova/Kirov Opera/Valery Gergiev
Philips 454 559 (2 CDs)
Click here to purchase this CD set from Amazon
Artículos en venta