English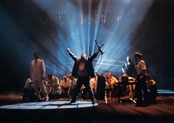 Foto:Sakari Viika
The Finnish National Opera
Adams, John
The Death of Klinghoffer (1990)
Duración: 140 minutos
Opera in two acts
Libretto by Alice Goodman (E)
Orquestación
S,M,C,T,3Bar,B; chorus(min:24 singers); dancers
orchestra: 2(I,II=picc).2(II=corA).2(II=bcl).2(II=dbn)-2.2.2.0-perc(1):KAT MIDI mallet controller/timp-2kbd samplers-harp-strings(8.8.6.6.4)

NOTE: The hiring of a sound designer is a condition/requirement for permission.

For complete technical specifications go to: mhgrey.wordpress.com.
Abreviaturas (PDF).
Territorio
Este trabajo está disponible a través de Boosey & Hawkes para el mundo.
Uraufführung
3/19/1991
Théâtre de la Monnaie, Brussels
Peter Sellars, director/Mark Morris, choregrapher
Director: Kent Nagano
Compañía: Théâtre de la Monnaie
Nota del repertorio
The Death of Klinghoffer, John Adams's second opera, travelled widely in its 1991 premiere production by Peter Sellars, and was recorded by Nonesuch. Subsequent productions have included a staging by Tony Palmer for Finnish National Opera in 2001. The work effectively crosses boundaries between opera and oratorio, resulting in part from the influence of the Bach Passions. This ritualised quality has brought the work equal success in concert performance. Running through the opera is a series of choruses, which can be performed in concert in their own right.
Ánimos
Tragic
Temas
Contemporary, Ethics, History, Religion, Politics
Grabación recomendada
Sanford Sylvan / James Maddalena / Sheila Nadler /
The Orchestra of the Opéra de Lyon / Kent Nagano
Elektra / Nonesuch 7559-79281-2
Click here to purchase this CD from our online shop
Christopher Maltman/Sanford Sylvan/Yvonne Howard/Tom Randle
London Symphony Orchestra and Chorus/John Adams, cond/Penny Woolcock, dir
Decca DVD Video 074 189-9
Click here to purchase this DVD Video from Amazon
Artículos en venta