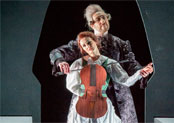 Photo: Rupert Larl
WP Innsbruck 2016, Paula Fünfeck dir.
Biber - Brüning
Himmelsgeigen und Höllenfeuer ()
(Heavenly violins and infernal flames)
Duration: 120 minutes
A Baroque opera-pasticcio for the young and the old
Texto de Paula Fünfeck (Alemán)
Scoring
2S,M,CT,Bar,3B; speaking role; mixed chorus; children's chorus; mimes; dancers;
3rec.2ob.bn-2tpt.3trbn-timp-perc(1):drums/bells/xyl-hpd-strings (if possbile, the recorders should be played by children)
Abbreviations (PDF)
World Premiere
6/4/2016
Tiroler Landestheater, Großes Haus, Innsbruck
Paula Fünfeck, director
Conductor: Anna-Sophie Brüning
Company: Tiroler Landestheater
Roles
| | |
| --- | --- |
| Amor/Jakob como muchacho/niño | Soprano (Niño) |
| Jakob Stainer, constructor de violines | Barítono |
| Margareta, prometida del Cantor, después esposa de Jakob/abeto | Soprano |
| Veith Schnauz alias Flatus Lenz, Cantor | Bajo |
| Franz von Klatten, la rata | Contratenor/papel de falsetista |
| El maestro Vendone, constructor de violines de Venecia | Bajo (como segundo elenco de Fe o del Cantor) |
| Fe/Heinrich Ignaz Franz Biber, virtuoso del violín y futuro compositor de ópera | Bajo |
| Esperanza/Valentina, la hija loca de amor de Vendone | Mezzosoprano |
| La muerte/El guarda nocturno | Papel hablado |
| Dos soldados y una pareja de hombre y mujer | Figurantes, bailarines |
| Niños del coro/Niños mendigos de Venecia/Hijos de Jakob/Niños rata | Coro de niños |
| Invitados al bautizo/Bebedores y organizadores de broncas/Aburguesados y tiradores/Los se sienten como en el paraiso y sibaritas | Coro |
Synopsis
A causa de la guerra reinante el Dios Amor está en el paro. No hay diana para sus flechas de amor.
En cambio, la Muerte toca con su violín la última danza para los soldados. Cuando de repente se encuentra con Amor este le roba su violín. La Muerte se olvida incluso de su propio arco, que le resulta más útil incluso que el instrumento.
En la iglesia de la corte de la ciudad de Innsbruck los niños cantores, entre ellos Jakob, están esperando a que de comienzo el bautizo del Príncipe Karl de Austria. Jakob desafina a propósito el violín del cantor. Cuando el mismo Jakob le advierte de que el violín está desafinado, porque él no se da cuenta, le condena a que toque él el preludio. Para Jakob, un juego de niños, sin ninguna dificultad, afina de nuevo el violín, y supera la prueba con brillantez.
Por un descuido, se cae el pequeño príncipe en la pila bautismal, lo que origina un gran revuelo.
Al final del bautizo todos abandonan felices la iglesia. Todos menos el cantor, que sale maldiciendo, porque Jakob, durante el revuelo, le ha clavado la levita al banco de la iglesia.......
Jakob intenta convertirse en constructor de violines, pero no le resulta, hasta que le visita su vecina Margareta. Instantaneamente le alcanzan las flechas del amor y además encuentra en Margareta el modelo para su violín. La única pega es que el padre de Margareta la ha prometido ya al cantor.
Ella no se da por aludida, deja al cantor plantado y se fuga con Jakob, al que el celoso cantor le tira por la ventana un cubo lleno de agua. A partir de este momento reina entre los dos una enemistad irreconciliable.

Se buscan nuevos soldados. El cantor llama la atención del comando de reclutamiento sobre la existencia de Jakob. Margareta, que ya está embarazada de Jakob, le ayuda a escapar. Jakob quiere ir a Venecia, ya que allí no hay guerra y sí hay buenos constructores de violines. Uno de ellos el maestro Vendone.
El maestro Vendone lo toma como discípulo pero sólo con una condición: ya que no puede pagar nada por su formación, ha de casarse con su hija Valentina, en cuanto esta vuelva de su largo viaje.
Jakob tiene pesadillas en la que se le aparece Margareta que enormemente decepcionada le hace los peores reproches. Jakob logra liberarse de la rabia amorosa de Valentina que ha vuelto de su viaje y se esfuma lo más rápido posible.

Ha pasado mucho tiempo. Margareta y Jakob tienen varios hijos, y la guerra aún no ha terminado.
A la fe y a la esperanza le falta también la confianza. Margareta y Jakob esperan ansiosamente al virtuoso del violín Biber, que quiere comprarle violines a Jakob.
De manera sincera y franca le expone sus ilegales opiniones protestantes y encuentra en Biber a un simpatizante. Sin embargo el cantor ha espiado su conversación, y azuza a la chusma contra él.
Le acusa de herejía. En efecto, se encuentra en su casa una biblia de Lutero que está prohibida.
Como castigo, quieren quemar todos los violines de Jakob. Sin que nadie se de cuenta, Biber consigue ponerlos todos a salvo. Jakob va a la cárcel y poco a poco se va desorientando cada vez más. La muerte le amenaza y él reconoce en la muerte a Amor, el ladrón de violines. Le ofrece que trabajen en común, pero Jakob no acepta. Fe, Amor y Esperanza cantan un himno en honor a Jakob, que con sus violines trajo la belleza a la "Guerra de los Treinta Años".
Subjects
History, Magic/Mystery, Music/Arts