Deutsch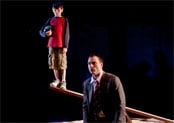 Photo: Jill Steinberg. Used courtesy of Beth Morrison Projects
Sam Poon (left), David Adam Moore
Little, David T.
Soldier Songs (2006/11)
Duration: 60 minutes
for baritone and amplified septet
Libretto by the composer, from recorded interviews with war veterans (E)
Scoring
Bar; fl(=picc,afl,perc).cl(=bcl,perc)-perc(2)-pft-vln.vlc (all instrumentalists doubling voice); tape

NOTE: The hiring of a sound designer is a condition/requirement for permission.


Abbreviations (PDF)
Territory
This work is available from Boosey & Hawkes for the world.
Roles

Synopsis
Soldier Songs traces changing perceptions of war in our society and by those who experience it. The nameless soldier is followed through three phases of life: Youth (playing war games), Warrior (time served in the military), and Elder (aged, wise, reflective).
Press Quotes
"Mr. Little's gifts for setting text comfortably and effectively, and for writing music informed by Minimalism and rock but slavishly indebted to neither, are evident throughout the briskly paced work. …The presentation provided further evidence of Mr. Little's fast-rising stock as a vital theatrical creator."
—New York Times
"Little's kaleidoscopic score includes jaundiced nods to both Aaron Copland's Americana and 19th-century orientalist music, minimalist chirps and chants in 'Real American Hero' and 'Hollywood Ending,' and blistering, Hendrix-style strings in 'War After War.'"
—TimeOut New York
"[Little] has earned acclaim for the imaginative way he draws on his varied musical interests to produce arresting and coherent works. Soldier Songs, for which Little wrote his own libretto, sustains that reputation."
—Musical America
Composer Notes
I wrote Soldier Songs to try to figure things out. In 2004 I was invited by my former high school to speak with students about my life as a composer. Following my talk was my old friend, Justen Bennett, who was asked to talk about being a soldier. Justen had just returned from Iraq where, among other things, he had been a field medic, and had been among those who stormed Saddam Hussein's palace. I felt a little silly.

Exiting the auditorium I saw a display case, which I remembered as having been used to celebrate student achievements: a victory for the football team, or the marching band, or photos from the musical that had happened the previous week. Now it was full of photos of alumni currently serving in Iraq and Afghanistan, driving tanks and carrying machine guns. Here, in the same case where the prom pictures used to go.

I remembered back to my days with them in class arguing about the ethics of Vietnam, or even Operation Desert Storm. I remembered my attitude at the time: that war was always wrong, and that those who signed up to fight it were always fools. And yet, here were my friends—smart kids all—now in the desert defusing land mines.

I then thought of my own family. Although we are not an intensely military family today, my generation is the first in nearly a century to not have a member in the service. My uncles were in Vietnam, Cambodia and Laos, and my grandfathers were in World War II, in Europe. Cracks began to form in my absolutist position, and questions began to arise.

To find my own answers, I called everyone I knew and asked them to speak with me about their experience. Everyone I asked said yes. It was from their stories that this piece began to emerge. What struck me most was that for almost all of them, this was the first time they had ever talked about their experience, even though for some they'd left active duty nearly 40 years ago. This became central to the piece—what, for me, this piece is about: the impossibility of the telling.

I never meant for this piece to prove a point, or even to have any kind of "message" to deliver. Rather, it is material presented for contemplation. I have selected and edited these interviews more as a way of sharing than as a way of convincing. By conducting these interviews, and writing this piece, I gained an awareness of the complexity and difficulty of the soldier's situation, and gained empathy and compassion for the men and women who have experienced the "one-way door" of combat; where once you pass through, you may never fully come back.

-- David T. Little, November 2012
Recommended Recording
David Adam Moore
Newspeak / Todd Reynolds
Innova #852

Click here to purchase CD from Innova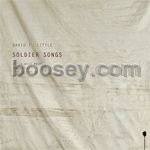 Mailing List
Sign up for news updates and offers via email
SIGN UP
ONLINE SCORES