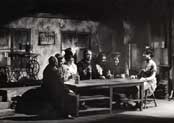 Photo: Ilse Buhs
Deutsche Oper Berlin 1969, Gustav Rudolf Sellner dir.
Blacher, Boris
200,000 Taler (1969)
Duration: 120 minutes
Opera in three scenes with an epilogue
Libretto after Scholom Aleichem, translated by Siegmund Bendkower (G)
Scoring
S,M,3T,3Bar,2B,2mimes; 2(II=picc).2.2.2-4.2.3.1-timp.perc(2-3):xyl/vib/glsp/tgl/cyms/SD/BD/tamb/3tom-t/gong-cel-harp-pft(on stage)-strings
Abbreviations (PDF)
World Premiere
25/09/1969
Deutsche Oper, Berlin
Gustav Rudolf Sellner, director
Conductor: Heinrich Hollreiser
Company: Deutsche Oper Berlin
Roles
| | |
| --- | --- |
| SCHIMELE SOROKER, a tailor | Baritone |
| MOTEL, helper | Tenor |
| KOPEL, helper | Baritone |
| ETTIE-MENNIE, his daughter | Mezzo-Soprano |
| PERL, neighbour | Soprano |
| SOLOMON, landlord | Bass |
| KOLTUN, manager | Baritone |
| SOLOVEITCHIK, marriage-broker | Tenor |
| HIMMELFARB, bank manager | Tenor |
| MENDEL, servant | Bass |
| REB ASHER FEIN, rich man/GOLDA, his wife | Pantomimes |
Time and Place
A Jewish community in Galicia, 19th century
Synopsis
The poor tailor Schimele Sorocker is financially embarrassed – he owes rent to his landlord, Solomon Fein. His only real asset is his attractive young daughter Bielke, who is object of the attentions of both Solomon and his agent Koltun, as well as Sorocker's young apprentices, Motel and Kopel. It seems that Bielke will perforce be married to one of the wealthy suitors, however, until news suddenly arrives that Sorocker has won first prize in a lottery: he is the recipient of 200,000 Thaler. Ironically, as a potential heiress, Bielke has become an even more attractive proposition. Two weeks later, Sorocker and his family are installed in their new grand residence, where Fein and Koltun again lay siege to Bielke. Fein and his parents are coming to dinner – indeed a business partnership is mooted. The arrival of the marriage-broker Soloveitchik clearly indicates the direction in which things are going. Before the all-important dinner party at the Sorocker residence, Motel and Kopel offer to help the desperate Bielke to escape, but she remains in her room with a migraine. The sudden appearance of Himmelfarb the bank cashier, however, throws everything into confusion: it turns out that the lottery win was a mistake – Sorocker is as poor as before. Bielke, meanwhile, has run away, and made it clear that of the two apprentices she prefers Motel. When her parents find her at their old home, to which they are now destined to return, they are pleased to accept Motel as a son-in-law – provided he doesn't expect a dowry.
Subjects
Ethics, History, Literary, Relationships, Society
Recommended Recording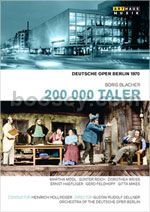 Martha Mödl / Günter Reich / Dorothea Weiß / Musikalische Leitung: Heinrich Hollreiser / Regie: Gustav Rudolf Sellner (Deutsche Oper Berlin 1970)
Arthaus Musik 102 185 (DVD)