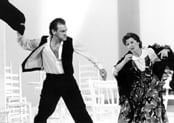 Photo: Fritz Stockmeier
Bielefeld 1990, Jörg Fallheier dir.
Mascagni, Pietro
Cavalleria rusticana (1889)
(Sizilianische Bauernehre)
Duration: 75 minutes
Opera in one act
Libretto by Giovanni Targioni-Tozzetti and Guido Menasci, based on the folk play of the same title by Giovanni Verga; German version by Oskar Berggruen (I,G)
Scoring
S,M,A,T,Bar,2speaking roles; mixed chorus; 2.2picc.2.2.2-4.2.3.1-timp.perc(3):BD/SD/cym/tam-t-2harp-strings; off-stage: harp-org-perc:plate bells (This work is published and distributed for stage performances by Boosey & Hawkes / Bote & Bock in Germany, Austria, Hungary, the Czech Republic, Slovakia, Slovenia, Croatia, Bosnia and Herzegovina, Serbia, Montenegro and in German speaking Switzerland.)
Abbreviations (PDF)
Territory
This work is available from Boosey & Hawkes Bote & Bock for Germany, Austria, Hungary, the Czech Republic and Slovakia, Slovenia, Croatia, Bosnia-Herzegovina and Switzerland (German) .
World Premiere
17/05/1890
Teatro Costanzi, Roma
Conductor: Leopoldo Mugnone
Company: Gemma Bellincioni (Santuzza) / Roberto Stagno (Turridu) and others

Roles
| | |
| --- | --- |
| SANTUZZA, a young peasant woman | Light Dramatic Soprano |
| TURRIDU, a young peasant | Dramatic Tenor |
| LUCIA, his mother | Alto |
| ALFIO, a carter | Dramatic Baritone |
| LOLA, his wife | Mezzo-Soprano |
| Two women | Speaking parts |
| Country people, children | |
Time and Place
A village in Sicily on an Easter Sunday in the late 19th century
Synopsis
Turiddu, a young Sicilian peasant, got engaged to Lola before his conscription to the army. When he returns from service a year later, she has become the wife of the wealthy Alfio. Turiddu finds consolation in his new love Santuzza. However, shortly afterwards Lola captures his attentions once again. Turiddu gets carried away in an affair with her and doesn't even attempt to disguise it in public. When Santuzza takes him to task for it, he brutally rejects her. Deeply hurt, Santuzza reveals her shame to the unsuspecting Alfio. The Sicilian peasant's code of honour forces him to challenge his rival to a duel. Full of foreboding, Turiddu bids farewell to his mother. In the duel with Alfio Turiddu meets his death.
Subjects
Relationships, Society
Email Newsletters
Sign up for news updates and offers via email
SIGN UP
ONLINE SCORES