Deutsch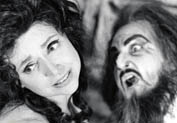 Photo: Tom Barnett, Courtesy The Washington Opera
World Premiere Performance by The Washington Opera, September 1971
Ginastera, Alberto
Beatrix Cenci (1971)
Duration: 90 minutes
Opera in two acts and fourteen scenes
Libretto by William Shand and Alberto Girri (S,F)
Scoring
Major roles: 2S,M,T,2Bar; minor roles; 2T,3B,2male speakers; chorus 3(III=picc).3(III=corA).3(III=bcl).2.dbn-4.4.4.1-timp.perc(3):glsp/ vib/bells(3 sets)/xyl/wind chimes (wood)/3 flex/3Chinese gongs/ Javanese gong/susp.crash cyms/BD/SD/5bongos/5congas/5tom-t/cowbells/ tamburo/tgl/tamb/wdbl/tam-t/whip/ratchet/crots/tpl.bl-cel-organ- mand-harp-strings.
Abbreviations (PDF).
Territory
This work is available from Boosey & Hawkes for the world.
World Premiere
10/09/1971
Kennedy Center, Washington, DC
Gerald Freedman, director / Joyce Trisler, choreography
Conductor: Julius Rudel
Company: Opera Society of Washington
Roles

| | |
| --- | --- |
| BEATRIX CENCI | Soprano |
| COUNT FRANCESCO CENCI, Beatrix's father | Baritone |
| LUCRECIA, Beatrix's step-mother | Mezzo-Soprano |
| BERNARDO, Beatrix's brother | Soprano |
| GIACOMO, Beatrix's brother | Baritone |
| ORSINO, a prelate | Tenor |
| ANDREA, the Count's servant | Bass |
| OLIMPIO, an assasin | Speaking role |
| MARZIO, an assasin | Speaking role |
| A Guard | Bass |
| 1st Guest | Tenor |
| 2nd Guest | Tenor |
| 3rd Guest | Bass |
| Nobles, Guards, Dancers, Servants, Etc... | Chorus |
Time and Place
14th Century, the Cenci Palace in Rome
Synopsis
Count Francesco Cenci, hated by the people and feared by his daughter Beatrix and his second wife Lucrecia, arranges a masked ball at which he intends to celebrate the death of his two sons. Beatrix seeks escape by sending a letter to the Pope with her former suitor, Orsino, who has taken Holy Orders, but Orsino tears up the letter. Dismayed at what the Count is celebrating, the guests leave despite the wishes of Beatrix, who is terrified to be left alone with her insane father. Orsino arrives, lies about delivering the letter, and claims that the Pope has rejected her plea. He leaves Beatrix to be raped by her father. In exile, Beatrix is persuaded by her older brother Giacomo to kill her father; she consents and hires two assassins, Olimpio and Marzio. Lucrecia gives Cenci a sleeping potion and delivers him to the assassins. They mortally stab the Count and hide his body. Months later, Orsino announces that the Count's body has been found, one of the assassins has been killed, and the other has confessed. Beatrix is arrested, bound, and tortured. She is then executed at the scaffold.
Moods
Dramatic, Tragic
Subjects
History, Relationships, Politics, Society
Mailing List
Sign up for news updates and offers via email
SIGN UP
ONLINE SCORES