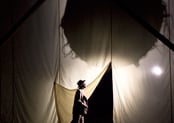 Photo: Terrence McCarthy
San Francisco 2005 (FP), Peter Sellars dir.
Adams, John
Doctor Atomic (2004-05)
Duration: 173 minutes
opera in 2 acts
Libretto by Peter Sellars drawn from original sources
Scoring
soloists: M, A, 2T, 2Bar, BBar, B; chorus


3(II, III=picc).3(III=corA).3(II=Ebcl, III=bcl,dbcl).3(III=dbn)-4.3(III=picc.tpt).3.1-harp-cel-timp-perc(4):I=thunder sheet/glsp/tgl/tuned gong/crot/susp.cym/med tam-t/BD/2roto toms/chinese cym/SD/tuned gongs;II=chimes/lg.tam-t/susp.chinese cym/crot/BD/tgl;III=tuned gongs/lo gong/susp.cym/thunder sheet/med tam-tlg tam-t/hi susp.cym/xyl/crot/chimes/low susp.cym/antique cym/hi tgl/med tam-t/sm tam-t/med gong/alarm bell/BD;IV=lg chinese cym/susp.cym/tam-t/tuned gongs/BD/2 high tgls/bass chime-computer-controlled sound system-strings



NOTE: The hiring of a sound designer is a condition/requirement for permission.



For complete technical specifications go to: mhgrey.wordpress.com
Abbreviations (PDF)
World Premiere
10/1/2005
San Francisco Opera House, San Francisco, CA
Gerald Finley, bar / Kristine Jepson, mezz / Peter Sellars, dir
Conductor: Donald Runnicles
Company: San Francisco Opera
Roles
| | |
| --- | --- |
| Dr. J. Robert Oppenheimer ("Oppie"), physicist and director of the Manhattan Project to develop a nuclear bomb | lyric baritone |
| Edward Teller, physicist | bass |
| Robert Wilson, physicist | tenor |
| Kitty Oppenheimer, wife of Robert | lyric mezzo |
| Pasqualita, Kitty's Tewa Indian maid | low mezzo or contralto |
| General Leslie Groves, US Army commander of the Manhattan Project | baritone |
| Frank Hubbard, chief meteorologist for the Trinity test site | baritone |
| Captain James Nolan, Army Medical Corps, in charge of the post hospital at Los Alamos | tenor |
| Other scientists, technicians, wives and military personnel working on the atomic bomb | SATB choris |
Time and Place
Los Alamos, New Mexico and the Trinity test site at Alamogordo, New Mexico, July, 1945
Synopsis
Work on the atomic bomb approaches its culminating point, led by physicist J. Robert Oppenheimer and Army Commander General Leslie Groves. Scientists at Los Alamos are divided regarding the moral and social implications of their work but pressures from Washington drive the project forward. Oppenheimer finds some rest in the poetry of Baudelaire as his wife, Kitty, contemplates the contradictions of peace, war, and love. On the night they must test the first atomic bomb a massive electrical storm lashes the site. As panic takes hold, Oppenheimer faces his own personal crisis alone in the desert, recalling a sonnet by John Donne that inspired him to name the test site 'Trinity': Batter my heart, three-person'd God.

With the rain still coming down, Groves disregards all warnings about the storm, and Oppenheimer orders everybody to prepare for the test shot at 5.30 A.M. Everyone waits, each absorbed in his own thoughts. Suddenly, the night sky is filled with a terrifying vision of Vishnu as described in the Bhagavad Gita. At zero minus ten minutes, a warning rocket is fired and a siren sounds. Then the storm breaks, and the sky over Ground Zero suddenly clears. Another warning rocket goes off, and at zero minus 60 seconds, a third one signals the final countdown. There is an eerie silence, and then an era begins.
Press Quotes
"Doctor Atomic is a magnificent accomplishment that easily takes its place alongside the other Adams-Sellars triumphs — Nixon in China, The Death of Klinghoffer and El Niño — and in important respects goes beyond them. It contains music of unearthly splendour and gorgeous lushness, and its rich expressivity will take many hearings to absorb."
Los Angeles Times 


"Since Britten's death some 30 years ago, the American composer John Adams has emerged as the most powerful voice in the creation of opera… Doctor Atomic is a moving and compelling work of moral, as well as musical, grandeur… one is left with a sense of the terrible magnificence of atomic fission as well as its unimaginable destructiveness."
Daily Telegraph
Moods
Dramatic, Poetic, Tragic
Subjects
Contemporary, History, Politics, Society
Recommended Recording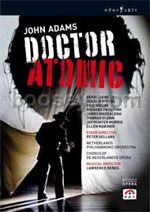 Gerald Finley / Jessica Rivera / Eric Owens / Peter Sellars (dir)
Chorus of De Nederlandse Opera
Netherlands Philharmonic Orchestra / Lawrence Renes
Opus Arte