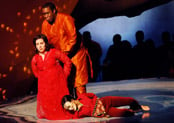 Photo: Ruth Walz
Wien 2006 (WP production), Peter Sellars dir.
Adams, John
A Flowering Tree (2006)
Duration: 113 minutes
Opera in 2 acts
Libretto eingerichtet von John Adams und Peter Sellars nach einem südindischen Volksmärchen sowie Gedichtübertragungen von A.K.Ramanujan (engl./span.)
Scoring
lyrS,T,Bar; chorus SATB (minimum 40)
2(II=picc).picc.soprano recorder*.alto recorder*.2(II=corA).3(III=bcl).2(II=dbn)-4.2.3.0-timp.perc(4):I= glsp/wdbl/claves/pedal BD/SD/2susp.cyms/2tuned bongos (or roto toms)/tom-t/shaker/3 tpl.blks/cowbell/bongo/maracas/BD/2 Japanese Bowl gong/Chinese cym/2tgls/slapstick;II= chimes/tgl/tamb/wdbl/susp.cym/rainmaker (med.)/BD/cast/bongo/SD; III=maracas/tamb/rainmaker (low)/high tgl/low tubular wind chimes; IV=shaker/rainmaker (low)-harp-cel-strings(min: 12.10.8.6.5)
*OPTIONAL: recorder players play some very simple percussion (rain sticks, etc.), or they can play only recorder
NOTE: The hiring of a sound designer is a condition/requirement for permission.
For complete technical specifications go to: mhgrey.wordpress.com
Abbreviations (PDF)
Uraufführung
11/14/2006
Halle E im MuseumsQuartier, Wien
Peter Sellars, director / Jessica Rivera, soprano / Russell Thomas, tenor / Eric Owens, baritone
Conductor: John Adams
Company: Orquesta Sinfónica Juvenil Simón Bolívar / Schola Cantorum de Caracas
Roles
| | |
| --- | --- |
| KUMUDHA | Lyrischer Sopran |
| Der PRINZ | Tenor |
| Erzähler | Bariton |
| gemischter Chor | |
Synopsis
Ein schönes Mädchen namens Kumudha ersinnt einen Plan, um ihrer verarmten Familie zu helfen: Sie verwandelt sich in einen Baum, von dem sie und ihre Schwester duftende Blumen sammeln, sie zu Kränzen weben und auf dem Markt verkaufen. Behutsam vollziehen sie das Ritual; mit zwei Krügen Wasser verwandelt sich Kumudha in den Baum, mit zwei weiteren Krügen Wasser verwandelt sie sich wieder in ihre menschliche Form zurück. Der Prinz, der in der Nähe wohnt, spioniert ihr hinterher und begehrt sie zur Frau. Nach der Hochzeit befiehlt er ihr, sich für ihn zu verwandeln. Sie willigt ein, doch die Schwester des Prinzen sieht ihr aus einem Versteck zu und zwingt ihre Schwägerin eifersüchtig, das Ritual für sie und ihre Freundinnen zu wiederholen. Nachdem Kumudha sich in einen Baum verwandelt hat, brechen sie seine Zweige ab, reißen die Blumen herunter und verlassen ihn, ohne das Wasserritual zu beachten, durch das Kumudha ihre menschliche Gestalt wiedererlangen könnte. Kumudha ist in einer Zwischenwelt gefangen, nicht ganz Baum und nicht ganz Mensch. Schließlich kommt ihr eine Sängertruppe zu Hilfe, die sie rettet und in ihre Jahrmarktsvorstellung mit aufnimmt, da sie wunderschön singen kann. Derweil zieht der Prinz in seiner Verzweiflung über das Verschwinden seiner Frau als Bettler durchs Land. Nach langer Zeit kommt er an den Palast seiner Schwester (die mittlerweile Königin geworden ist). Mit Mühe erkennt sie ihn und nimmt ihn auf. Als sie von einer Gruppe fahrender Sänger und einer seltsamen Baumfrau mit einer himmlischen Stimme hört, ruft sie das traurige Zwitterwesen in den Palast, in der Hoffnung, sie könne dem Prinzen helfen. Der Prinz erkennt sogleich die Stimme seiner Frau und gibt ihr mit zwei Wasserkrügen ihre menschliche Gestalt zurück.
© Sarah Cahill
Press Quotes
"A Flowering Tree verdient, im Repertoire Wurzeln zu schlagen." (Andrew Clark, Financial Times, 20.11.2006)

"Die Musik ist opulent, traumhaft, leidenschaftlich lyrisch, mitunter düster und fremdartig – und ganz anders als alles, was der 59jährige Komponist geschrieben hat." (Alex Ross, The New Yorker, 04.12.2006)

"Wer anders als John Adams wäre besser geeignet für [Sellars'] menschheitsversöhnendes, politische, kulturelle und ästhetische Gegensätze in einem Atemzug überwindendes Kunstprojekt? Für Adams ist die Überbrückung der sogenannten E- und U-Sphäre jenseits eines schwammigen Begriffs von 'Cross-over' seit je Programm... Doch hat er die 'minimalistische' Arbeit mit ständig wiederholten Mustern und rhythmischen Zellen so erweitert, daß er zu ihrem Gegenpol, zu großbogig gespannten, symphonischen Entwicklungen gelangte, deren klangliches Leben sich uhrmacherhaft präzisen Schichtungen verdankt. Man täusche sich nicht über die vermeintliche 'Einfachheit' seiner Musik: Was süffig, mitreißend und mitunter auch plakativ klingen kann wie ein spannender Soundtrack, offenbart sich beim genaueren Hören doch als äußerst differenziertes, facettenreiches und hyperkomplexes Gewebe... Adams weiß in seiner Partitur virtuos zwischen heterogensten Einflüssen, zwischen Gospelton und Salsarhythmen. ekstatisch flirrenden Klangflächen und fetzigen minimalistischen Zuckungen, Kantilenen und aggressiven Repetitionsmustern zu vermitteln." (Julia Spinola, Frankfurter Allgemeine Zeitung, 16.11.2006)
Subjects
Zauberei/Geheimnis
Recommended Recording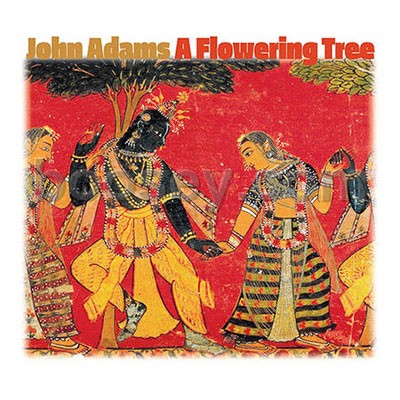 Jessica Rivera, sop / Russel Thomas, ten / Eric Owens, bass-bar
London Symphony Orchestra / Schola Cantorum de Venezuela / John Adams
Nonesuch 327100-2