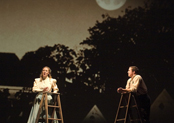 Photo: Ric Cradick
Bloomington 2006 (FP), Vincent Liotta dir.
Rorem, Ned
Our Town (2005)
Duration: 120 minutes
opera
Libretto by J D McClatchy based on Thornton Wilder (E)
Scoring
Major roles: 2S,2M,3T,Bar,B; Minor roles: S,4T (from chorus); SATB chorus 2.1.2.1-2.1.0.0-pft-strings
Abbreviations (PDF)
Territory
This work is available from Boosey & Hawkes for the world.
World Premiere
24/02/2006
Musical Arts Center, Bloomington, IN
Vincent Liotta, director / C. David Higgins, designer
Conductor: David Effron
Company: Indiana University Opera Theater

Roles
| | |
| --- | --- |
| STAGE MANAGER | Tenor |
| DR. GIBBS, the town doctor | Bass |
| MRS. SOAMES | Mezzo-soprano |
| GEORGE GIBBS, son of Mr. and Mrs. Gibbs | Tenor |
| EMILY WEBB, daughter of Mr. and Mrs. Webb | Soprano |
| MRS. WEBB | Soprano |
| JOE CROWELL | |
| FRANK | |
| SAM | |
| friends of George | |
| LADY IN THE BALCONY | Soprano |
| MAN IN THE AUDIENCE | |
| MR. WEBB, the newspaper editor | Baritone |
| SIMON STIMSON, the choirmaster | Tenor |
| MRS. GIBBS | Mezzo-soprano |
| CHORUS | SATB |
Time and Place
Grover's Corners, New Hampshire, 1901
Synopsis
Act I
As the opera opens, a funeral procession is crossing the stage to the strains of the old hymn "O God, Our Help in Ages Past." From the midst of the mourners, the Stage Manager comes forward and introduces us to Grover's Corners, New Hampshire on May 7, 1901—a small, typical American town where some ordinary and extraordinary things are about to happen. We meet two families, first Doc Gibbs and his wife (the Doc is with a patient, Mrs. Soames), and then Editor Webb and his wife. Both couples are upstanding pillars of the community. The wives have identical gardens and two dissimilar children—George Gibbs, star of the high school baseball team, and Emily Webb, the best student in class. Though drawn to one another, their differences chafe. Emily, in a talk with her mother, wonders if boys will ever notice her. "You're pretty enough for all normal purposes," Mrs. Webb assures her. The Stage Manager continues to fill us in on Grover's Corners, and even answers questions from the audience. Choir practice has started, and Simon Stimson, the church organist, is drunk and unhappy again ("Leave loudness to the Methodists"). Meanwhile, at their opposite bedroom windows, Emily and George figure out a problem—until Doc Gibbs calls George downstairs to reprimand him for ignoring his chores. Mrs. Gibbs returns from choir practice, and she and her husband stay out on the porch in the moonlit night, reminiscing, even as George and Emily, back at their windows, also stare at the moon, and at each other.

Act II
Three years have gone by and Emily and George are about to get married. Doc and Mrs. Gibbs think back on their own marriage, while George impetuously dashes over to see his bride—to the consternation of a superstitious Mrs. Webb, who won't let him see Emily until they meet in the church, and insists Editor Webb give him some stern advice for the future. But the Stage Manager again interrupts the story, wanting to show how the young couple fell in love. So we're suddenly back two years in time, while George and Emily are having an important talk about their future lives, each frankly discussing feelings that upset the other. A turn into Mr. Morgan's drugstore for a soda seems the best way to prevent tears, and while sitting at the counter they both discover what is the most important thing in their lives.
We now jump to July 7, 1904, three years into the future—the church on the day of the big wedding. But the bride and bridegroom sing separately of their fears . . . until their parents push them towards the altar. The service is read, the choir sings, the townfolk are clucking, and the happy couple race down the aisle and into married life.

Act III
It is the summer of 1913. We are in the town cemetery. The dead are gathered on chairs to one side, and we can recognize some of them—Mrs. Gibbs, Mrs. Soames, Simon Stimson. They seem calmly detached. As the Stage Manager describes some of the changes that have occurred, we suddenly notice a funeral procession approaching. They are singing the same hymn heard at the beginning. Mrs. Gibbs explains that it is Emily who has died, giving birth to her second child. This is her funeral. The Stage Manager meditates on life and death, and on the fact that the dead "are waiting for something they feel is coming." As the coffin in lowered, Emily herself suddenly appears among the dead, and has already taken on some of their detachment. But she still misses George and their life, and wonders if she can return, just for a day, just to be part of life one last time. The dead warn her not to, that it will only add to her unhappiness. But Emily insists, and the Stage Manager agrees to accompany her back to the day of her thirteenth birthday.
Suddenly, she is back in Grover's Corners. Her father and mother—how young they look! she thinks—are pre-occupied with the small unimportant tasks and routines of the day. George enters, and gifts are given to the birthday girl, but no one seems to realize the importance of each moment, or how fleeting are joy and life. In tears, Emily begs the Stage Manager to take her back to the dead. As she leaves with him, she sings one last farewell to Grover's Corners, lamenting "Oh, earth, you are too magical for anyone to know your miracle." The dead welcome her back, and together they sing of the living, "they don't understand, do they?" The Stage Manager comes forward again. The stars are criss-crossing the sky, the world is asleep. In an indifferent universe the world keeps on. "Only this place still straining away, straining away all the time, straining away to do its best."

Press Quotes
"...one of those rare new operas that seem destined to survive."
MusicalAmerica.com
An intimate chamber opera to match the play's spareness... Rorem's music is accessible, singable, and full of integrity."
New York Times

"Langorous melodic lines or fragments, often with an unmistakable Americana flavour, interact in the orchestra, and the vocal parts engagingly follow suit. If Wilder's play is to have music, Rorem's is credible and often exquisite."
Financial Times
Email Newsletters
Sign up for news updates and offers via email
SIGN UP
ONLINE SCORES