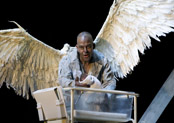 Photo: Dan Brady/The Sage Gateshead
Machover, Tod
Skellig (2008)
Duration: 75 minutes
Opera in two acts
Scoring
6 singers, children's chorus (SATB)
1(=picc,afl).1(=corA).1(=bcl).1(=dbn)-2.2.1.0-perc:marimba/xyl/vib/timp/DS/TD/BD/3susp.cyms/6wdbls/5roto-toms/tam-t/tub.bells-pft(=MIDI keyboard)-electronics(=MIDI keyboard)-strings

This work requires additional technological components and/or amplification.
Abbreviations (PDF)
Territory
This work is available from Boosey & Hawkes for the world.
World Premiere
24/11/2008
The Sage, Gateshead
Braham Murray, dir / Mark Bruce, chor / Omar Ebrahim / Paul Keohone / Sophie Daneman
Conductor: Garry Walker
Company: Northern Sinfonia

Roles
| | |
| --- | --- |
| Michael | tenor |
| Mina | soprano |
| Mum | mezzo-soprano |
| Dad | baritone |
| Skellig | dramatic baritone with both low and high range |
| Coot | high tenor |
| Leakey | baritone |
| Teen-age Chorus | SATB |
Time and Place
Today in the northeast of England.
Synopsis

Skellig: The Story
"He was lying there in the darkness behind the tea chests in the dust and dirt. It was as if he'd been there forever. He was filthy and pale and dried out and I thought he was dead. I couldn't have been more wrong. I'd soon begin to see the truth about him, that there'd never been another creature like him in the world."
Michael and his family have moved house. It was going to be wonderful. They were due to arrive in time for the spring. But everything's dark, the place is a wreck, the garden's a wilderness. And now Michael's sister is dangerously ill, his parents are frantic and Doctor Death has come to call.
Michael feels helpless.
Then he steps into the crumbling garage...
What is this thing beneath the spiders' webs and dead flies?
A human being, or a strange kind of beast never seen before?
The only person Michael can confide in is Mina. Together, they bring the creature into the light, and Michael's world changes forever...
Skellig: Scenes
1. The Family in the Wilderness
2. The Garage
3. A Girl Named Mina
4. 27 and 53
5. Arthur Itis
6. The Sweetest Noise
7. Where Your Wings Were
8. My Name is Skellig

Intermission

9. Leakey and Coot
10. A Dream
11. Skellig and the Owls
12. Bloody Bloody
13. Michael Faints
14. The Operation, Skellig and the Baby
15. The Dance
16. Joy
Press Quotes
"There is more than enough to engage listeners of all ages in this surprisingly successful children's opera...Like the enigmatic creature itself, Skellig deserves many reincarnations." The Independent (London)
"Skellig works brilliantly as an opera. Boy, does it work! It left me with a lump in my throat and a sort of a tickle in one eye. Big boys don't cry, of course, but I was very moved." The Journal (Newcastle)
"I was mesmerised by the performances of all characters and was driven to tears by the emotion." Chronicle Live (Newcastle)
"Any prejudiced soul convinced that opera is a moribund or historic artform best ignored would have their preconceptions shattered at The Sage this week...Here is a brand-new opera proving the medium more than suitable for the latest storytelling for young people." The Herald (Glasgow)
"The score is sparely but vivaciously orchestrated, easily melodic, rhythmically buoyant and enriched by many strange and wonderful noises." The Telegraph (London)
"Machover saw the musical landscape of the book as one of sounds which converse with or rebound from each other rather than arias or even tunes…encouraging [the story] to spread its wings." British Theatre Guide
"Almond and Machover can be assured they aroused a sense of awe and wonder in at least two first time opera goers (ages 8 and 9)." CultureCentral (Newcastle)
Email Newsletters
Sign up for news updates and offers via email
SIGN UP
ONLINE SCORES