Deutsch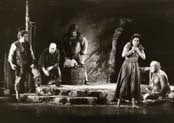 Photo: PSD/Steinmentz
Salzburger Festspiele, 1974
Strauss, Richard
Die Frau ohne Schatten (1914-17)
(The Woman without a Shadow)
Duration: 210 minutes
Opera in three acts
Libretto by Hugo von Hofmannsthal (G,E,F,I,J)
Scoring
Major roles: dramcolS,dramS,hdramS,dramM,heldT,heldBar; minor roles: T,Bar,B; small roles: 3S,3A,T,3B,6children; chorus 4(III,IV=picc).3(III=corA).2(=Ccl).Ebcl(=Dcl).bhn(=Ccl).bcl(=Ccl). 4(IV=dbn)-8(V-VIII=ttuba).6.4.1-timp.perc:musical glasses/2cel/glsp/ whip/5chinese gongs/cyms/SD/xyl/bells/BD/TD/tgl/tamb/2cast/tam-t- 2harp-strings(vln16.16,vla6.6,vlc6.6,db8)Stage orchestra: 2.1.2Ccl.1- 1.6.6.0-perc:windmachine/thundermachine/ 4tam-t-org NB On-stage woodwind and hor n may play in pit if necessary. Two of the on-stage trumpets move t o the pit for Act III, thus a total of ten trumpets is required.
Abbreviations (PDF)
Territory
This work is available from Boosey & Hawkes for all countries except Germany, Italy, Portugal, Danzig, and the former territories of the USSR.
World Premiere
10/10/1919
Vienna
Conductor: Franz Schalk
Company: Vienna State Opera
Roles

| | |
| --- | --- |
| EMPEROR | Tenor |
| EMPRESS, his wife | Soprano |
| NURSE | Mezzo Soprano |
| SPIRIT MESSENGER | Baritone |
| GUARDIAN OF THE THRESHOLD OF THE TEMPLE | Soprano or Countertenor |
| APPARITION OF A YOUTH | Tenor |
| VOICE OF THE FALCON | Soprano |
| VOICE FROM ABOVE | Contralto |
| BARAK, the dyer | Baritone |
| DYER'S WIFE | Soprano |
| BARAK'S BROTHERS | 2 Baritones, Tenor |
| Children's voices | 3 Sopranos, 3 Contraltos |
| Voices of the nightwatchmen | 3 Basses |
| Imperial Servants, Children, Attendant Spirits, Spirit voices | chorus |
Synopsis
Keikobad, the Spirit King, sends a final messenger with an ultimatum: if his daughter's union is not turned from selfish passion to marital and parental love, symbolised by the Empress casting a shadow, the Emperor will be turned to stone. The Empress compels her Nurse to take her to the world of mankind to find a shadow, while her husband is away on a hunting trip. They descend to the home of the dyer Barak and his wife who long for children to improve their pitiful existence. The Nurse promises riches to the Dyer's wife if she refuses her husband for three days and renounces motherhood. On the third day the Dyer's wife reveals to Barak that she has sold her shadow and her womb is sterile. The Empress hesitates to seize the shadow because it is stained with the blood of unborn children. Barak threatens to kill his wife but in an earthquake and flood they are separated and transported to Keikobad's realm. The Empress and Nurse travel in a boat to the Spirit kingdom. Held in dark isolation, Barak and his wife each reaffirm their love and are released but must find one another again. The Empress is determined to face her father's judgement and abandons the Nurse's malevolent influence. Entering the temple she is offered a drink from the Waters of Life to claim the shadow and save her husband who is revealed turned to stone apart from his eyes. But, hearing Barak and his wife crying out for each other, she refuses to drink. Her own shadow appears and the Emperor is liberated as their unborn children rejoice. Barak and his wife are reunited and the two women celebrate their passing of the trials to reach motherhood.
Moods
Poetic, Romantic
Subjects
Ethics, Magic/Mystery, Mythology, Relationships, Literary
Recommended Recording
Julia Varady, Plácido Domingo, Hildegard Behrens, José Van Dam, Reinhild Runkel, Albert Dohmen, Sumi Jo, Robert Gambill, Elzbieta Ardam, Eva Lind, Gottfried Hornik, Hans Franzen, Wilfried Gahmlich, Vienna Boys' Choir, Vienna State Opera Chorus, Vienna Philharmonic, Sir Georg Solti
Decca 4362432
Click here to purchase this CD set from Amazon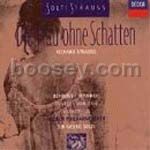 Mailing List
Sign up for news updates and offers via email
SIGN UP
ONLINE SCORES