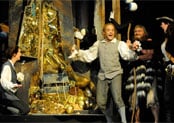 Photo: Theater Erfurt, Lutz Edelhoff
Erfurt 2013, Eva-Maria Abelein dir.
Schwemmer, Frank
Die Schatzinsel (2011)
(The Treasure Island/La isla del tesoro)
Duration: 120 minutes
Adventure opera in 3 acts
Libretto by Michael Frowin, based on the Novel by Stevenson (G)
Scoring
2S,2M,3T,3Bar,BBar,B; male chorus (with soli); 1(=picc).1(=corA).2(I=bcl).1(=dbn)-0.2.1.0-timp(1).perc(2)-accordion-strings(3.2.2.3.2)
Abbreviations (PDF)
Territory
This work is available from Boosey & Hawkes for the world.
World Premiere
17/11/2012
Opernhaus, Zürich
Nadja Loschky, director
Conductor: Thomas Rösner
Company: Opernhaus Zürich

Roles
| | |
| --- | --- |
| JIM HAWKINS | Tenor |
| LONG JOHN SILVER | Bass-Baritone |
| MARY HAWKINS | Mezzo-Soprano |
| LILY | Soprano |
| SCARLETT | Soprano |
| Baroness TRELAWNEY | Mezzo-Soprano |
| Dr. DAVID LIVESAY | Baritone |
| Captain SMOLETT | Bass |
| BILL BONES | Tenor |
| BEN GUNN | Tenor |
| BLIND PEW | Baritone |
| ISRAEL HANDS | Baritone |
| Chorus of Pirates | 4T, 2Bar, 2B (with soli from chorus) |
| Chorus of Englishmen | 2T, Bar, B (soli) |
Synopsis
Jim Hawkins dreams of one day becoming master of the seas and travelling to faraway countries. In reality, he has to help his mother out at the tavern Admiral Benbow, day in and day out. When one day a guest dies at the tavern, Jim finds a treasure map in the dean man's sea chest – which belonged to the late pirate captain Flint. And, lo and behold, Jim finds himself on the most exciting adventure of his life.

An expedition to the treasure island is organised, and Jim is invited to join the voyage on the sailing ship the Hispaniola as the cabin boy, alongside Captain Smollett, Dr Livesay, Baroness Trelawney, Lily and Scarlett. Once out on the high seas, however, it transpires that Captain Flint's former comrades were hired as the crew, including the one-legged ship's cook Long John Silver.

The pirates are also on the lookout for treasure, and they manage to purloin half of the treasure map. Having arrived on the island, a race against time and a frantic search for the gold ensues, in the course of which luck changes side on numerous occasions.
Press Quotes
"Schwemmer's music places itself at the service of the story and the text: strongly built upon a dramaturgy of tone colours, it accentuates the events and leads, especially in the quiet moments with harmonics in the strings and wind noises in the wind instruments, to oppressive moods ... The young audience is neither spoon-feed with sweet cuteness nor admonished with a raised finger." (Michelle Ziegler, Neue Zürcher Zeitung, 19 Nov 2012)
Email Newsletters
Sign up for news updates and offers via email
SIGN UP
ONLINE SCORES