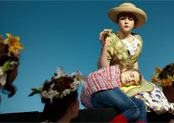 Photo: Brinkhoff/Mögenburg
Hamburg 2011. Nicola Panzer dir.
Valtinoni, Pierangelo
Die Schneekönigin (2008-09, arr.2010)
(The Snow Queen/La Regina delle Nevi/La Reina des las Nieves)
Duration: 80 minutes
Opera for children in two acts
Libretto by Paolo Madron after Hans Christian Andersen; German version by Frank Harders-Wuthenow and Werner Hintze; English version by Benjamin Gordon (G,I,E)
Scoring
child soloists; children's chorus; orchestra
Abbreviations (PDF)
Territory
This work is available from Boosey & Hawkes for the world.
World premiere of version
06/02/2011
Kampnagel [k2], Hamburg
Nicola Panzer, director
Conductor: Benjamin Gordon
Company: Schüler und Schülerinnen aus Hamburger Schulen

Roles
| | |
| --- | --- |
| Gerda | |
| Kay | |
| The Snow Queen | |
| The Grandmother | |
| The Flower Lady | |
| The Lapp Woman | |
| Mr. Crow | |
| Mrs. Crow | |
| The Reindeer | |
| The Princess | |
| The Prince | |
| The Robber's Daughter | |
| The Voices of the River, Children, Birds, Flowers | child soloists |
| Playmates, Flowers, Court People, Robbers, Little Devils, The Army of Snowflakes | children's chorus |
| (some roles may be doubled) | |
Synopsis
One winter's day, Kay and Gerda's grandmother tells the two children the legend of the Snow Queen. When Gerda is reminded of roses by seeing ice flowers, she sings a song about roses. Kay starts to behave strangely; he laughs at the other children's games, takes to solving arithmetical problems and rejects Gerda when she, worried about him, tries to talk to him. One day, when the Snow Queen appears to him on a grand sleigh, Kay follows her. Gerda begins to search for him but neither people, animals, nor the river can help her. For a while she stays in the idyllic cottage of a mysterious flower lady until the sight of roses on the lady's hat reminds Gerda of Kay and the purpose of her quest. On her long journey, Gerda receives the help of various people and animals: a raven, a princess and her prince, a robber girl who initially does not seem to be willing to help, and the girl's reindeer. An old and wise Lapp woman, who knows where Kay is to be found, reveals the secret of his transformation to her. He was hit by a splinter of a magic mirror created by the devil. With the last of her strength, Gerda reaches the Snow Queen's palace in the distant north. There she finds Kay, but he is blind and deaf to her. She cries and embraces him in desperation. Her tears wash the splinter out of his heart and break the spell. The Snow Queen's palace melts away and all around it a sea of blossoming flowers unfolds.
Subjects
Literary, Magic/Mystery, Relationships
Email Newsletters
Sign up for news updates and offers via email
SIGN UP
ONLINE SCORES