Shostakovich, Dmitri
The Gamblers (1941-42)
Duration: 47 minutes
First act of unfinished opera based on Gogol's comedy
Libretto by the composer, after the story by Nikolai Gogol
Scoring
3T,3B 3(II=afl,III=picc).2.corA.4(III=Ebcl,IV=bcl).3(III=dbn)-4.3.3.1-timp.perc:tgl/tamb/SD/cast/cyms/BD/xyl- 2harps-pft-bass balalaika-strings This work is represented by Boosey & Hawkes in the UK, British Commonwealth (excluding Canada), Republic of Ireland, mainland China, Korea and Taiwan
Abbreviations (PDF)
Territory
This work is available from Boosey & Hawkes for the UK, countries of the Commonwealth (excluding Canada) and the Republic of Ireland.
World Premiere
18/09/1978
Grand Hall of the Leningrad State Philharmonic, Leningrad
Conductor: Gennady Rozhdestvensky
Company: Moscow Chamber Theatre / Leningrad Philharmonic Orchestra

World stage premiere
12/06/1983
Wuppertal
Conductor: Tristan Schick
Company: Wuppertal Oper

Roles
| | |
| --- | --- |
| IKHAREV, a professional card-sharp | Tenor |
| GAVRYUSHKA, his servant | Bass |
| ALEKSEI | Bass |
| KRUGEL | Tenor |
| SHVOKHNEV | Bass |
| UTESHITELNY | Tenor |
Time and Place
An inn in Russia
Synopsis
A professional card-sharp, Ikharev, and his servant Gavryushka, arrive at a country inn in the deep Russian provinces. The innkeeper's servant Alexei tells him that there are three other guests staying, all gamblers. Ikharev immediately prepares his cards. The gamblers meet Gavryushka and pay him to tell them all about Ikharev. Gavryushka tells them only that his master is a gentleman and enjoys cards. Ikharev tells Alexei to provide drink and to pass the three gamblers a pack of cards he has ready. The three gamblers and Ikharev begin to play and it swiftly becomes apparent that everyone knows that everyone else is cheating. The three gamblers persuade Ikharev to join forces with them in a grand scheme involving tampering with packs of cards and selling them to unsuspecting people. They suggest various elaborate ways of doing this. Ikharev is tempted by the chance of such easy money.
[At this point, just before the end of Act I, Shostakovich's setting of Gogol's play breaks off. In the course of Acts ll and lll, other characters appear, each of whom falls haplessly into the swindling plot. At the end Ikharev imagines that he has won a great deal of money, until he discovers that all these other characters were actually part of the same swindling ring as the three gamblers. At that point he realises that it is he who has lost every penny. The opera of 'The Gamblers' has been completed by the Polish composer Krzysztof Meyer.]
Repertoire Note
First act of unfinished opera based on Gogol's comedy The Gamblers, for six male solo voices and large orchestra:
All his life, Shostakovich dreamt of writing another full-length opera to follow 'Lady Macbeth of the Mtsensk district'. In the early part of World War ll, he thought he had founded the text he wanted, Gogol's satirical comedy about a sinister group of card-sharps and the elaborately ingenious trick by which they swindle another card-sharp.
He determined to set every word of Gogol's text. But by the time he got near the end of the first act, he realised that his opera was going to be far too long. He must also have realised that the savagely mocking text and the bitter laughter of the music he had written would never be allowed to be performed in the extremely repressive cultural climate of the time. So he abandoned the project.
What survives is what would have been Act l, a dark and bitter drama of a group of low-life characters all fiendishly determined to outwit one another, and hell-bent on destruction. This surviving fragment has been successfully staged, but it also makes a shocking and powerful concert item, a fascinating glimpse into Shostakovich's mind in the period between the writing of the 7th and 8th Symphonies.
Note by Gerard McBurney
Subjects
Literary, Relationships, Society
Recommended Recording
Vladimir Rybasenko, Vladimir Tarkhov, Valery Belykh, Nicolai Kurpe, Ashot Sarkisov, Yaroslav Radivonik, Leningrad Philharmonic Orchestra, Gennadi Rozhdestvensky
Melodiya 74321603192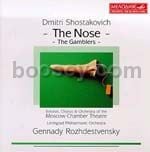 Email Newsletters
Sign up for news updates and offers via email
SIGN UP
ONLINE SCORES