Deutsch
MacMillan, James
Búsqueda (1988)
Duration: 29 minutes
Music Theatre work for speaker, actors, soprano and ensemble
Text from Latin Mass and Poems by the Argentinian Mothers of the Disappeared, translated by Gilbert Markus O.P. (L-E)
Scoring
8 actors, 3 sopranos, speaker 1(=afl).0.3(III=bcl).0-0.3.3(III=ttrbn/btrbn).0-perc(2):I=vib/2tam-t/drum kit/wdbl/2spring coils/sleighbells; II=lg tam-t/drum kit/maracas/wdbl/2spring coils/sleighbells/claves-2harps-2vlc.db.
Abbreviations (PDF).
Territory
This work is available from Boosey & Hawkes for the world.
World Premiere
06/12/1988
Queen's Hall, Edinburgh
John Shedden, speaker
Conductor: James MacMillan
Company: ECAT Ensemble
Synopsis

The sound of sleeping. Lord have mercy… Men and women wait through the night, fearful of the street executions and kidnap squads. A cry in the darkness. And on earth peace, goodwill towards men… A brother disappeared four years ago and his elder sister counts the weeks and months with their family. Her sons ask 'What is justice? Does mercy exist? Is it a sin to defend the truth?' She answers, but is crying. And he became incarnate of the Virgin Mary, and was made man. A son is missing and his mother cradles the memory of his young life. He was crucified for us… The newspapers defend the state and report 'the mob of madwomen in front of the presidency demanding explanations – measures were taken to disperse them'. Holy, Holy, Holy, Lord God of Hosts… And on the third day he rose from the dead… Thousands have disappeared and the mothers go on weeping, praying, fighting and waiting. Lamb of God, have mercy on us. A daughter is missing and her mother prepares to welcome her miraculous return and soothe away her tortured memories. Grant us peace. The mother will not have waited in vain. The sound of sleeping resumes.
Press Quotes
"...music of shattering directness, clearly defined emotion and angry idealism... It is hard to think of another contemporary figure who is so lyrical and dramatic, and yet so thoroughly in command of his material."
The Independent
Moods
Poetic, Tragic
Subjects
Contemporary, Ethics, History, Religion, Politics, Society
Recommended Recording
Juliet Stevenson, Ruth Anderson, Charlotte Spink, Anna Bentley, Scottish Chamber Orchestra, James MacMillan
Catalyst 09026626692
(not currently available on sale)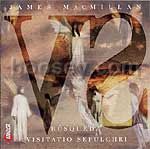 Mailing List
Sign up for news updates and offers via email
SIGN UP
ONLINE SCORES