Deutsch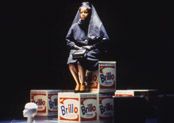 Photo: Jim Caldwell, Houston Grand Opera
Houston Grand Opera
Daugherty, Michael
Jackie O (1997)
Duration: 90 minutes
opera in 2 acts
Libretto by Wayne Koestenbaum
Scoring
2S,2M,T,Bar,BBar, chorus 1(=picc).1(=corA).1(=Ebcl,bcl).ssax(=asax,tsax).1-1.1.1(=euphonium).1-perc(2)-harp-acoustic gtr-pft(=synth)-strings(1/1/1/1/1 or small complements).
Abbreviations (PDF).
Territory
This work is available from Boosey & Hawkes for the world.
World Premiere
14/03/1997
Houston, TX
Conductor: Christopher Larkin
Company: Houston Grand Opera
Roles

| | |
| --- | --- |
| Jackie O | Soprano |
| Maria Callas | Dramatic Mezzo-Soprano |
| Aristotle Onassis | Bass |
| Painter (Andy Warhol) | High Baritone |
| Liz Taylor | Soprano |
| Grace Kelley | Mezzo-Soprano |
| Paparazzo (male or female) | Jazz Tap Dancer/Actor (silent role) |
| Dancing Jackie | Classical Ballerina on point (silent role) |
| J.F.K.'s Voice | Tenor (off stage or in orchestra pit; amplification |
| Chorus (12 singers, minimum) | 3 Sopranos, 3 Altos, 3 Tenors, 3 Baritones/Basses (Additional chorus may be used as long as the voices are divided equally) |
Time and Place
Andy Warhol's Factory, New York City, 1968
Synopsis
ACT I The Happening
The year is 1968, five years after the assassination of President John F. Kennedy. The place: Andy Warhol's Factory in New Yark City. The event: a Happening. Cafe society in extremis. Hollywood celebrities Liz Taylor and Grace Kelly complain about the perils of fame. The partygoers wonder at all the stars who are not present at the event: where's Ringo? where's Mia? where's Jackie? The phone rings: Jackie Kennedy's back! She's on her way to the party. Her time of mourning JFK's death is over: she wants to re-enter society. She arrives at the Happening and must face her public: their attention thrills
but also fatigues and frightens her. She meets Pop artist Andy Warhol: she consents to pose, and he paints her portrait. The portrait turns into a Dancing Jackie ballerina, whom the real Jackie commands to dance. Then Aristotle Onassis, one of the world's richest playboys, arrives at the party with opera diva Maria Callas. The two squabble, and Ari jilts her. He introduces himself to Jackie, and in an attempt to win her favor invites her to flee the Happening and go to see a new art-house movie, I Am Curious (Yellow). Still immured in melancholy reflection, she is unsure: but when the phone rings, bringing the news of another assassination (Bobby Kennedy's? Martin Luther King's?) she accepts Arl's offer of security and, on his arm, leaves the party for the island of Skorpios to marry him.

ACT II The Island
One year later, Ari and Jackie are on the yacht Christina, moored at the island of Skorpios. Jackie is reading a book; Ari is carousing with his playboy pals, with whom he sings a drinking song. He offers Jackie a drink: she refuses. The marriage is clearly on the rocks. Jackie is increasingly given to fits of remembrance, of trance: she remembers Jack (JFK), her past life, the lost promise. The phone rings; it is Maria, who tells Ari of her career troubles. They agree to a tryst at the lido, a swank hangout. After Ari hangs up, the phone on the yacht rings again: Ari hears the tragic news that his son has been killed in an accident.
Dreaming of the new frontier, Jackie sleepwalks onto the island; Maria fallows her, and the two sing -apart, but more and more together -of their parallel traumas, their eternal flames. At the end of their duet, they embrace, reconciled at last. The Paparazzo, who has been following Jackie throughout the opera, bursts onto the island, and tries to take their pictures. Maria is happy to be photographed, but Jackie orders her to smash the camera. Maria relents and carries out the command, freeing Jackie from the spell. Maria wishes her well, and leaves the island. Jackie, alone, makes her long-awaited phone call to the other Side, to JFK, who asks to be forgiven for the suffering he has caused. Together they dream of what might have been. Strengthened and transfigured by her encounter with the voice of her beloved, she decides to return to America, to her children, to the fragments of the new frontier.
Recommended Recording
Fiona McAndrew / Nora Sourouzian / Simone Alberghini /
Teatro Comunale di Bologna / Damiano Michieletto, dir /
Christopher Franklin
Dynamic DVD Video 33605

Click here to purchase this DVD from our online shop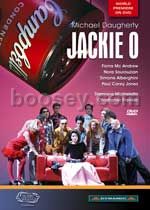 Mailing List
Sign up for news updates and offers via email
SIGN UP
ONLINE SCORES