Deutsch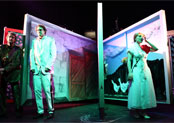 Photo: Pia Clodi
Wien 2010, Jewgenij Sitochin, dir.
ter Schiphorst, Iris
Die Gänsemagd (2009)
(The Goose Girl)
Duration: 60 minutes
Opera for children
Libretto by Helga Utz (G)
Scoring
cS,2M,B,actor/dancer; bcl-accordion-vlc-sampler.
Abbreviations (PDF).
Territory
This work is available from Boosey & Hawkes for the world.
World Premiere
2/18/2010
Dschungel, Theaterhaus für junges Publikum, Wien
Jewgenij Sitochin, director
Company: Die Wiener Taschenoper
Roles

| | |
| --- | --- |
| Princess | Mezzo-Soprano |
| Her mother, the Queen / Kürdchen, The Goose Keeper | Mezzo-Soprano |
| Female Servant | Coloratura Soprano |
| King / Butcher | Bass (with large speaking part) |
| Prince / The Horse | actor or dancer |
Synopsis
A princess is sent by her mother to a distant kingdom in order to marry a rich prince. With a talisman her mother gave her and accompanied by her maid and Fallada, a speaking horse, she sets out on her journey. Along the way, the maid suddenly refuses to serve her lady. When the princess kneels down at a brook to drink some water, she loses her talisman. As a result, the maid gains power over the princess who is now unprotected. She switches their roles, commands the princess to remain silent and, on arrival at their destination, marries the prince. Fearing that Fallada might betray her, she has him killed. The princess, now a goose girl working with Kürdchen, a goose keeper, asks the knacker to hang the horse's head from the city gate. Whenever she passes the gate, the horse speaks to her. Kürdchen, not knowing what to make of this, talks to the king about what he has seen. When the princess is confronted by the king, she refuses to answer since she is sworn to silence. The king suggests that she crawl into an oven to express her grief there in private. However, he eavesdrops on her and tells her story at his dinner party, asking his daughter-in-law, the former lady's maid, for her opinion as to the proper punishment for such a deed. The punishment she suggests is finally administered to herself, and the true princess is married to the prince.
Moods
Poetic
Subjects
Magic/Mystery, Relationships, Literary
Mailing List
Sign up for news updates and offers via email
SIGN UP
ONLINE SCORES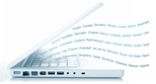 Explore our library of over 1000 online scores
VIEW SCORES