English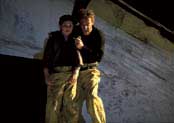 Foto:Bill Rafferty
English National Opera 1993, Tim Albery
Britten, Benjamin
Peter Grimes (1945)
Duración: 147 minutos
Opera in three acts and a prologue
Libretto by Montagu Slater, derived from a poem by George Crabbe (E,Bg,Cz,Dn,F,Fl,Fn,G,H,I,J,P,Sc)
Orquestación
Major roles: S,A,T,Bar; minor roles: 2S,M,2T,Bar,2B,2mimes; chorus 2(=picc).2(II=corA).2(II=Ebcl).2.dbn-4.2.Dtpt.3.1-timp.perc(2):SD/TD/ BD/tamb/tgl/cyms/gong/whip/xyl/rattle-cel-harp-strings Off-stage:organ-bells-tuba* Dance band on-stage*:2cl-perc:cym/SD/BD-pft(ad lib)-vln.db (*taken from the orchestra).
Abreviaturas (PDF).
Territorio
Este trabajo está disponible a través de Boosey & Hawkes para el mundo.
Uraufführung
6/7/1945
Sadler's Wells, London
Eric Crozier, Regisseur
Director: Reginald Goodall
Compañía: Sadler's Wells Opera
Nota del repertorio
In 1942, Britten, then living in America, came across an article by the novelist E.M.Forster on the Suffolk poet George Crabbe, an encounter that was a decisive factor in Britten's resolve to return to England for good. It was Crabbe's poem 'The Borough' which subsequently served as the basis for Britten's first full-scale opera, Peter Grimes, the work that launched him internationally as the leading British composer of his generation and which almost single-handedly effected the renaissance of English opera.
The composer's self-avowed aim in the opera was 'to express my awareness of the perpetual struggle of men and women whose livelihood depends on the sea' and anyone who has visited the coastline around the composer's home town of Aldeburgh will recognize the uncanny certainty with which Britten has captured that land- and seascape in Peter Grimes. Perhaps more importantly, the opera also introduces many of the fundamental dramatic themes which characterise Britten's entire operatic output: the individual against the mass, and the corruption of innocence.
Reproduced by kind permission of the Britten-Pears Library
Ánimos
Dramatic, Poetic, Tragic
Temas
Contemporary, Ethics, History, Relationships, Society, Literary
Grabación recomendada
Philip Langridge/Janice Watson/Alan Opie/Ameral Gunson/John Graham-Hall/John Connell/Anne Collins/City of London Sinfonia/London Symphony Chorus/Richard Hickox
Chandos CHAN 94478
Click here to purchase this CD set from our online shop

Philip Langridge / Janice Cairns / Chorus and Orchestra of the English National Opera / David Atherton, cond
Arthaus Musik DVD PAL 100 382
Click here to purchase this DVD from our online shop

Peter Pears/Claire Watson/Owen Brannigan/Jean Watson/Geraint Evans/John Lanigan/Covent Garden Royal Opera House Orchestra and Chorus/Benjamin Britten
Decca 4145772
Click here to purchase this CD set from Amazon
Artículos en venta
| | | |
| --- | --- | --- |
| Old Joe Has Gone Fishing SATB & piano | SATB | > Detalles |
| Peter Grimes, op. 33 - libretto | Libretto | > Detalles |
| Peter Grimes, op. 33 - study score | Study Score (hardback) - Hawkes Pocket Score 749 | > Detalles |
| Peter Grimes, op. 33 - vocal score | (Vocal Score) | > Detalles |