English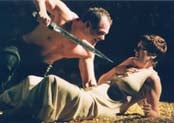 Foto:Bill Rafferty
English National Opera 2001, David McVicar, dir
Britten, Benjamin
The Rape of Lucretia (1946, rev.1947)
Duración: 107 minutos
Opera in two acts
Libretto by Ronald Duncan, after the play by André Obey (E,Cz,Fl,G,I,S,Sc)
Orquestación
2S,M,A,T,2Bar,B 1(=picc,afl).1(=corA).1(=bcl).1-1.0.0.0-perc(1):timp/susp.cym/gong/ BD/TD/SD/tgl/whip/tamb-harp-pft(=conductor)-strings (1.1.1.1.1).
Abreviaturas (PDF).
Territorio
Este trabajo está disponible a través de Boosey & Hawkes para el mundo.
Uraufführung
7/12/1946
Glyndebourne
Eric Crozier, Regisseur
Director: Ernest Ansermet
Compañía: Glyndebourne Festival Opera
Nota del repertorio
It was a combination of economic realities and aesthetic preferences that encouraged Britten to develop the concept of chamber opera, employing a small cast without chorus and an orchestra of just thirteen players. His first work in the new medium was The Rape of Lucretia, first performed just over a year after Peter Grimes, in 1946. There is, however, no loss of colour and atmosphere – indeed the pared-down textures produced an intensification of Britten's operatic vision which was to serve him further in Albert Herring and The Turn of the Screw.
With the roles of the Male and Female Chorus, who comment on the action 'out of time' (as in Greek tragedy) and the use of solo piano accompaniment to accompany recitative passages, Lucretia achieves a certain 'classical' poise and detachment. However, Lucretia and Tarquinius are flesh-and-blood characters driven by real human emotions and desires (Lucretia's music is surely some of Britten's most sheerly beautiful) and the resulting amalgam is an opera of great musico-dramatic power and expressive richness.
Reproduced by kind permission of the Britten-Pears Library
Ánimos
Dramatic, Poetic, Tragic
Temas
Contemporary, Ethics, History, Relationships, Society, Literary
Grabación recomendada
English National Opera / Lionel Friend
Arthaus DVD 102021
Click here to purchase this DVD from our online shop

Jean Rigby/Nigel Robson/Catherine Pierard/Donald Maxwell/Alastair Miles/Alan Opie/Patricia Rozario/Ameral Gunson/City of London Sinfonia/Richard Hickox
Chandos CHAN 9254
Click here to purchase this CD set from our online shop
Artículos en venta
| | | |
| --- | --- | --- |
| Rape Of Lucretia, op. 37 - study score | Study Score (hardback) - Hawkes Pocket Score 656 | > Detalles |
| Rape Of Lucretia, op. 37 - vocal score | (Vocal Score) (English, German) | > Detalles |
| The Rape Of Lucretia, op. 37 - libretto | Libretto | > Detalles |