Deutsch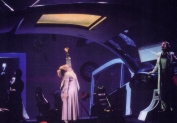 Photo: Monika Ritterhaus
Staatsoper Unter den Linden Berlin 1999 (world premiere), Nicolas Brieger, dir
Carter, Elliott
What Next? (1997-1998)
Duration: 47 minutes
An opera in one act
Libretto by Paul Griffiths (E)
Scoring
lyrS,dramS,A,T,Bar, boy alto
2(II=picc).2(II=corA).2(II=bcl).2(II=dbn)-2.1.1.1-perc(4):I=SD/2cym/ thundersheet/6brake dr/cowbell/marimba; II=cym/tamb/5cowbells/3metal pipes/washboard/vib; III=tam-t/hammer/lion's roar/gong/tom-t/cym/SD; IV=BD/2tom-t/SD/cym/flex/vib-harp-pft-strings:(min.4.4.2.2.2).
Abbreviations (PDF).
Territory
This work is available from Boosey & Hawkes for the world.
World Premiere
16/09/1999
Staatsoper Unter den Linden, Berlin
Nicholas Brieger, director / Lynne Dawson, Simone Nold, Hilary Summers, William Joyner, Hanno Mueller-Brachmann
Conductor: Daniel Barenboim
Company: Staatsoper Unter den Linden
Roles

| | |
| --- | --- |
| ROSE | Lyric Soprano |
| MAMA | Dramatic Soprano |
| STELLA | Low Contralto |
| ZEN | Tenor |
| HARRY OR LARRY | Baritone |
| KID | Boy Alto |
Time and Place
Now, the scene of an accident
Synopsis
There has been an accident of some kind, involving six "victims," five adults and a child. They emerge from the wreckage dazed but apparently unhurt. The five adults – Harry or Larry (who is always called by both names), Mama, Rose, Stella, and Zen – are unable to remember how they are related, where they were going when the accident occurred, or how they came to be in the same place at the same time. Rose, a diva, vocalizes and treats the others as admiring fans; Zen, a would-be seer, dispenses cryptic aphorisms; Harry or Larry cracks absurd jokes; Stella, an astronomer, is fixated on the stars. Mama tries to bring order to the situation. The Kid, on the other hand, is preoccupied with a more pressing matter: his empty stomach. A pair of street workers arrive to survey the damage but in spite of their pleas for attention, the victims are ignored; after a while the street workers guide the adults off the stage. It falls to the Kid to ask the question that might save them all.
Moods
Dramatic, Poetic
Subjects
Relationships, Society
Recommended Recording
Valdine Anderson / Sarah Leonard / Hilary Summers / William Joyner / Dean Elzinga / Emauel Hoogeveen / Netherlands Radio Chamber Orchestra / Peter Eötvös
ECM 1817

To purchase this CD from Amazon, click here now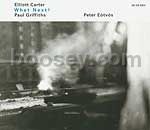 Mailing List
Sign up for news updates and offers via email
SIGN UP
ONLINE SCORES