Shostakovich, Dmitri
:
The Limpid Stream
op. 39
(1934-35)
120'
Comedy Ballet in three acts and four scenes to a libretto by Fyodor Lopukhov and Adrian Piotrovsky
Orchesterbesetzung
2.picc.2.corA.2.Ebcl.3(III=dbn)-4.3.3.1-timp.perc:tgl/SD/cyms/glsp-harp-strings
Abkürzungsverzeichnis (PDF)
Vertriebsgebiet
Dieses Werk ist erhältlich bei Boosey & Hawkes für Aufführungen in for the UK, countries of the Commonwealth (excluding Canada) and the Republic of Ireland.
World Premiere
04/06/1935
Malyi Opera House, Leningrad
Fyodor Lopukhov, choreographer / Malyi Opera Ballet / Pavel Feldt

Hintergrund
Full-length ballet on a scenario by Fyodor Lopukhov and Adrian Piotrovsky.

Shostakovich's third and final ballet – and his second project with the great choreographer Lopukhov - is more conventional and traditionally 'balletic' than his first two. By the time he wrote it, Stalin's repressive doctrines of Socialist-Realism were beginning to bite and the plot has little satire and is relatively conventional: a group of ballet-dancers have been sent into the countryside to bring sophisticated metropolitan entertainment to a successful new Soviet Collective Farm. After some complicated amorous intrigues, it turns out that the honest country-bumpkins have more to teach the city-folk than the other way round.

What is most delightful in this little-known ballet are the extended dance-sequences, often parodying or imitating the great ballet-composers of the past like Tchaikovsky, but with a fresh, modern, open-air and energetic sparkle all their own. The score abounds in light and catchy melodies and dance-rhythms to get the foot tapping, Shostakovich at his most fluent and easily accessible.

Note by Gerard McBurney
Komponist im Porträt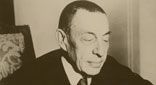 Sergei Rachmaninoff
Zu den wichtigsten Werken dieses beliebten russischen Komponisten zählen das Klavierkonzert Nr.2, die Symphonischen Tänze und die Paganini-Rhapsodie.
LESEN SIE MEHR