James MacMillan on The South Bank Show
(December 2002)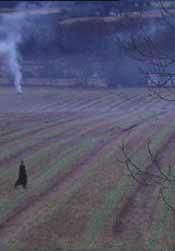 The South Bank Show has spent a year with James MacMillan to make this compelling TV feature, produced by Robert Bee, which will be broadcast on Sunday 5 January 2003 on ITV1.



The composer talks in depth with Melvyn Bragg about his music, his life and his personal convictions and we join MacMillan as he works with the BBC Philharmonic and explores his native Scotland. We visit Cumnock, the Ayrshire mining village of his childhood, a Celtic match in Glasgow, Pluscarden Monastery in the Highlands and Iona, where the connections between his faith and his music are examined.

We also see the composer at Covent Garden in London collaborating with choreographer Christopher Wheeldon and acclaimed ballet dancers Darcey Bussell and Jonathan Cope, as his orchestral work Tryst is realised for the stage.

Throughout, we hear MacMillan's recent music including The Birds of Rhiannon, Parthenogenesis, Cumnock Fair and Magnificat with performers including the BBC Philharmonic and the BBC Singers.

Listen to MacMillan soundclips, including The Birds of Rhiannon and Magnificat.
> Weitere Informationen zum Werk: The Birds of Rhiannon
© Granada Television
> Nachrichtensuche
Komponist im Porträt