$6.78 *

* Estimated price converted from UK retail price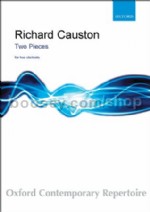 This work is made up of two contrasting treatments of the same underlying melody. The first is entitled 'Grizzly Bear Jam' because of its ferocity, playfulness and rhythmic instability. 'Song to End Mourning' is a fantasia which opens with the melody divided between the instruments in two gradually unfolding cantilenas, and moves through an arabesque-like episode to a moment of great intensity.
Show
Contents and Reviews
Reviews
There are currently no reviews for this product.
You May Be Interested In