Catalogue No: AM950818
Shop Product Code: 129498D
More Product Codes
More Product Codes
ISBN: 9780711931732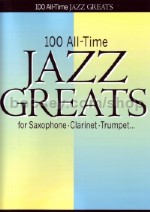 The front line source book of one hundred favourite jazz pieces, arranged for all Bb and Eb instruments, complete with transposed chord symbols. All the great tunes of the genre are here including: A Night In Tunisia, Basin Street Blues, Fly Me To The Moon, I Wish I Knew How It Would Feel To Be Free, Lullaby Of Birdland, Mood Indigo, Salt Peanuts, Satin Doll, Take Five, Take The A Train, Tuxedo Junction.
Show
Contents and Reviews
Contents
A Night In Tunisia
African Waltz
Angel Eyes
Bark For Barksdale
Basin Street Blues
Bernie's Tune
Black Coffee
Blue Haze
Canal Street Blues
Caravan
Chelsea Bridge
Cute
Desafinado
Django
Don't Dream Of Anybody But Me
Doxy
Drop Me Off In Harlem
Early Autumn
Everything But You
Fly Me To The Moon (In Other Words)
Flying Home
Four
Good Bait
Hip Twist
Honeysuckle Rose
How Insensitive (Insensatez)
I Wish I Knew How It Would Feel To Be Free
I'm Beginning To See The Light
In A Sentimental Mood
Intermission Riff
Is You Is, Or Is You Ain't (Ma' Baby)?
It's A Raggy Waltz
Jersey Bounce
Lean Baby
Lemon Drop
Line For Lyons
Lover Man (Oh Where Can You Be)
Lullaby Of Birdland
Lush Life
Manhattan Spiritual
Manteca
Meditation
Midnight Sun
Miles Ahead
Mississippi Mud
Moanin'
Mood Indigo
Moonglow
Night Train
Nine-twenty Special
No Line
Oop Bop Sh-bam
Ornithology
Paul's Pal
Pent Up House
Perdido
Petite Fleur (Little Flower)
Pompton Turnpike
Quiet Nights Of Quiet Stars
Recado Bossa Nova (The Gift)
Red Top
Ruby My Dear
Salt Peanuts
Satin Doll
Seven Come Eleven
Seven Eleven
Short Stop
Skin Deep
So Nice
Solitude
Someday (You'll Be Sorry)
Song Of The Jet (Samba Do Aviao)
Soul Eyes
Soul Junction
Stomp, Look And Listen
Strutting With Some Barbeque
Sweetheart Of Sigmund Freud
Take Five
Take The 'A' Train
Tel Aviv
The Girl From Ipanema
The Hawk Talks
The Lonesome Road
The Preacher
Time's A-wastin'
Tune Up
Tuxedo Junction
Undecided
Very Early
Walkin' Shoes
Waltz For Debby
Way Down Yonder In New Orleans
Weep No More
Wheatland (From The 'Canadiana Suite')
Why Phillis
Will You Still Be Mine?
Yardbird Suite
Yes Indeed
Yesterdays
Zion, Me Wan Go Home
Reviews


There are currently no reviews for this product.
Other Releases