RRP: $14.41 *
Now: $12.25 *

* Estimated price converted from UK retail price
Catalogue No: NA226412
Shop Product Code: 2074904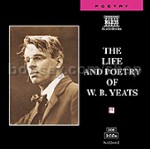 Hawthorne, Denys, reader
Norton, Jim, reader
Riordan, Marcella, reader
Boulton, Nicholas, reader

The life of William Butler Yeats is a remarkable one—poet, playwright, essayist, politician, occultist, astrologer, founder of a national theatre, voluminous correspondent, lover, husband and father. It was a life that extended to a packed, sometimes frantic seventy-three years and left us with what many consider to be one of the finest collections of poetry from one voice.

Show
Contents and Reviews
Contents
Disc 1 The Life and Works of W.B. Yeats 1. Down By The Salley Gardens 2. The Early History of the Yeats Family 3. Extract from The Wanderings of Oisin 4. The Early Poems and Sligo 5. The Stolen Child 6. Down By The Salley Gardens 7. A 'Man of Letters' 8. To The Rose Upon The Rood Of Time 9. The Lake Isle of Inisfree 10. The Pity Of Love 11. The Sorrow OF Love 12. December 1891 - Yeats meets Maud Gonne 13. When You Are Old 14. A Dream Of Death 15. The Ballad Of Father Gilligan 16. The Fiddler Of Dooney 17. The 1890s 18. The Host Of The Air 19. The Song Of Wandering Aengus 20. 1896 - A love affair 21. The Lover Mourns For The Loss Of Love 22. The Cap And Bells 23. Lady Augusta Gregory 25. The Wishes For The Cloths Of Heaven 26. Adam's Curse 27. The New Century 28. No Second Troy 29. Drama and a National Theatre for Ireland 30. To A Child Dancing In The Wind 31. The Cold Heaven 32. 1912 - The 'Great Lock Out' 33. September 1913 34. The Fisherman 35. The Wild Swans At Coole 36. Broken Dreams 37. Easter 1916 38. The Rose Tree 39. An Irish Airman Foresees His Death 40. Men Improve With The Years Disc 2 The Life and Works of W.B. Yeats 1. Summer 1917 - Marriage 2. Solomon To Sheba 3. To A Young Beauty 4. January 1919 5. The Second Coming 6. A Prayer For My Daughter 7. The Years Following 1920 8. Leda And The Swan 9. The Nobel Prize for Literature 1923 10. Among Schoolchildren 11. Sailing To Byzantium 12. The Tower 13. In Memory Of Eva Gore - Booth And Con Markiewicz 14. A Dialogue Of Self And Soul 15. For Anne Gregory 16. At Algeciras - A Meditation Upon Death 17. The Choice 18. Mohini Chatterjee 19. Byzantium 20. Crazy Jane And Jack The Journeyman 21. Crazy Jane Talks With The Bishop 22. Crazy Jane On God 23. After Long Silence 24. Her Vision In The Wood 25. A Prayer For Old Age 26. Sweet Dancer 27. Roger Casement 28. Why Should Not Old Men Be Mad 29. From Under Ben Bulbin 30. The Man And The Echo 31. 1938 - The Death of Olivia Shakespeare 32. The Circus Animals' Desertion 33. Politics 34. 1939 - Final Days in France 35. Cuchulain Comforted 36. Final Letter to Lady Elizabeth Pelham
Reviews
There are currently no reviews for this product.
You May Be Interested In