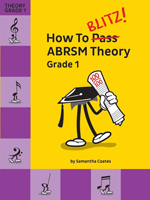 This new series includes everything you'll need to blitz your Grade 1-3 Theory exams, with full guidance to the entire syllabus, revision exercises and worksheets.
Featuring quizzes, games, multiple choice, word searches and more, the book manages to make what is usually a dreaded topic into something fun. Although music theory applies to all instruments, the Piano keyboard makes visualisation easier, so lots of these diagrams are included to help students understand concepts more easily.

Written by renowned educator and author Samantha Coates, the BlitzBooks series has brought fun and laughter to the areas of music theory, instrumental technique and sight reading. Her engaging approach to theory and sight reading has made BlitzBooks already the most popular range of theory and sight reading books in Australia, now finally available in the UK.