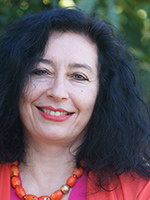 Luke's Painting, Drinking Song, Silver Pearls, Silver Poetry and Butterflying, arranged for string quartet
Elena Kats-Chernin is one of the most cosmopolitan composers working today, having reached millions of listeners worldwide through her prolific catalogue of works for theatre, ballet, orchestra, and chamber ensemble. Her dramatically vivid music communicates a mixture of lightheartedness and heavy melancholy, combining strong rhythmic figures with elements of cabaret, tango, ragtime, and klezmer.

One of Australia's leading composers, Elena Kats-Chernin has created works in nearly every genre. Among her many commissions are pieces for Ensemble Modern, the Bang on a Can All-Stars, the Australian Chamber Orchestra, the Adelaide, Tasmanian and Sydney Symphony Orchestras, Present Music, City of London Sinfonia, Swedish Chamber Orchestra and the North Carolina Symphony.