The Classical Film Collection from Faber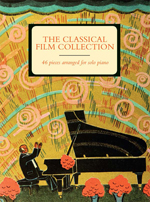 The piano collection brings together famous pieces from the movies, such as Tchaikovsky's Swan Lake (from Black Swan) and Mozart's Clarinet Concerto (Out of Africa).
This exciting songbook also includes, for the first time in print, House of Woodcock by Jonny Greenwood from Phantom Thread. All 46 pieces have been arranged for the intermediate pianist.