The Latest Henle Piano Publications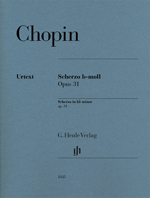 New Urtext Editions include Chopin's Scherzo op. 31, Norwegian Dances op. 35 from Grieg, Dvorák's Humoresques op. 101 and Beethoven's Piano Sonata no. 1 op. 2,1.
Further titles include French Suites BWV 812-817 from Bach in a new revised edition of the original piano score, Faure's Nocturne no. 6 in D flat major op. 63 and Valse Romantique from Claude Debussy.