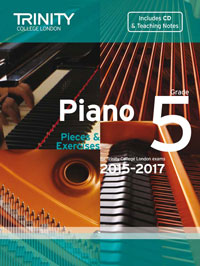 New Piano Exam books and CDs from Trinity College London are available now for Initial–Grade 8.
The graded piano books for Trinity College London exams 2015–2017 feature repertoire specially selected by leading piano educators and new Technical Work exercises for each level.

Graded CDs support the repertoire books, featuring recordings by Pamela Lidiard (Initial–Grade 5), and John York, Clare Clements, Philip Mead and Peter Wild (Grades 6–8). Alternative repertoire included.

These books and CDs contain a selection of pieces for each Trinity College London Piano grade in the 2015-2017 syllabus. Due for release in July, they can be pre-ordered today and despatched upon release.