A new folksong arrangement by James MacMillan
(July 2008)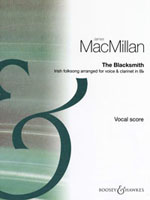 An unusual and beautiful version of The Blacksmith arranged for voice and clarinet.
It is unknown how far this sad and wistful traditional folksong dates back, but it was noted down by Vaughan Williams in 1909 from a Mrs. Powell. Several versions have been covered since by the likes of The Critics Group, Shirley Collins and Steeleye Span.

Two scores are provided: a vocal score in C and a clarinet score with all the material transposed into B flat.
> Further information on The Blacksmith - voice & clarinet
> News Search
Email Newsletters
Sign up for news updates and offers via email
SIGN UP
Featured Composer