Andriessen: Rosa rides again, on new CD
(February 2001)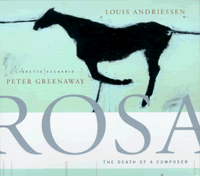 Nonesuch has recently released the premiere recording of Rosa: The Death of a Composer, the 1995 operatic collaboration between Louis Andriessen and Peter Greenaway (Nonesuch 7559 79559-2). The work was premiered at the Netherlands Opera in 1995 to sold-out houses, revived in 1998, and committed to disc, all conducted by Reinbert de Leeuw.



Just as Greenaway's intricate libretto develops on a number of formal levels, so his original production integrated layers of film projection and live action, creating a complex and allusive theatrical structure defying traditional narrative. The new recording provides the opportunity to focus in on the virtues of the score, described by The Independent as "pure Andriessen, blanched in the quieter music, and punch-drunk when the going gets hot. It's a music of extremes. I adore it."

"Rosa, a composer with a passion for horses and a job in the movies, has been shot while riding. Esmeralda [his wife] comes from a family of slaughterhouse owners and has complained to her mother of Rosa's debasing behaviour. Various clues are presented and various suspects, including Esmeralda's brothers…the evidence points to a mysterious death by misadventure. Rosa was killed as he rode off into one of his own movies, where perhaps, as an artist, he had been dying all along." The New York Times

"Andriessen's Rosa is endlessly fascinating…The way in which his language has expanded and deepened over the past two decades is perfectly demonstrated in Rosa, which still uses an orchestra in which the wind outnumbers the strings, and contains plenty of examples of his archetypal, gritty motoric writing, but there are also moments of great lyrical beauty, blues-tinged vocal lines, affectionate remembrances of 19th-century music, witty parodies of film music from the westerns, even a final hip-hop number." The Guardian

As part of a BBC TV/NPS project to bring composers and filmmakers together in new collaborations, Andriessen recently joined with Hal Hartley to create a 16-minute film, The New Math(s). Other pairings within the series include Karlheinz Stockhausen and the Brothers Quay, John Tavener and Werner Herzog, and Adrian Utley of Portishead and Nicolas Roeg. Due for television screening this year, The New Math(s) is also scheduled for presentation at the Barbican in London (1 March) and the Bergen Festival (27 May) with the Electra ensemble performing live in tandem with the film. Its ostensible subject is the solution of a maths equation, but it quickly branches out into a strange and witty pastiche of thriller, noir and martial-arts film styles. In addition to its life as a film score, The New Math(s), scored for voice, flauto traverso, violin and marimba, together with pre-recorded electronic inserts by Michel van de Aa, may also be performed as a purely concert work.
> Further information on Performance: The New Math(s)
> Further information on Work: ROSA The Death of a Composer
> News Search
Mailing List
Sign up for news updates and offers via email
SIGN UP
Featured Composer